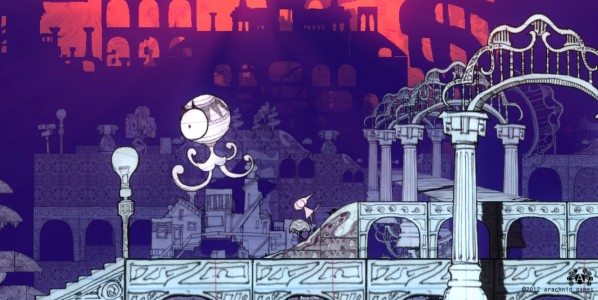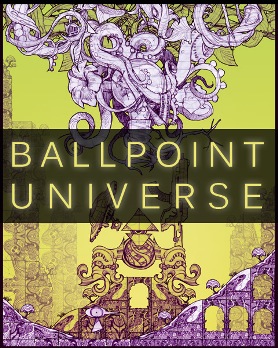 Developer: Arachnid Games
Publisher: Arachnid Games
Platform: Mobile – iOS PC – Desura, Direct, Steam
 Do you remember the days when you would be too bored in class to pay attention? Instead, you'd doodle away on a sheet of paper. Maybe you still do! Ballpoint Universe – Infinite is a game that transports those kinds of doodles into their own world. But instead of just being within the margins, the entire game is comprised of ballpoint drawings! They're much better than anything I ever drew in class, too.
It's mightily impressive. But what is the actual game like? Even that is a bit hard to pin down at first. As a cute, but measly little doodle, you wander around a hub world talking to other doodles. They will offer up tasks and it's your goal to complete them. However, each mission boils down to basically the same thing – a shoot 'em up level. Sidescrolling shooter segments are what the game is all about.
Once in shooter land, the ship can be customized via ink. Ink is gathered by destroying enemies as well as bestowed upon you by fulfilled mission-givers. In any case, it's possible to level up weapons and shields or buy entirely new ones to level. There are a great deal of items to choose from and some work better in specific circumstances. It's always possible to change them out before a mission to give your ship the greatest advantage. Beyond the missions, there is also an infinite mode which works sort of like a boss rush mode.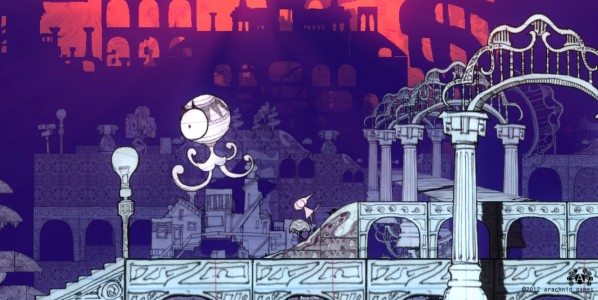 Shooters are often great fun, and Ballpoint Universe – Infinite certainly has its heart in the right place. With creatively designed creatures, excellent music, and a ton of ship customization it seems that there's no way the game could fail. Unfortunately, the shooting itself isn't that engaging. Instead of feeling exciting, it somehow turns into a chore. At the very least, the ship control via mouse is very responsive. Currently there's no controller support.
It's a shame that the main focus of the game isn't more engaging! By all accounts it should be but for some reason I just wasn't feeling it. With every other aspect of the game being so stand out though it's hard to discount this one. Considering the super cheap price, feel free to take a chance on Ballpoint Universe – Infinite. If you're still unsure, check out the demo!
---

3 out of 5 alpacas
---
Review code provided
About our rating system