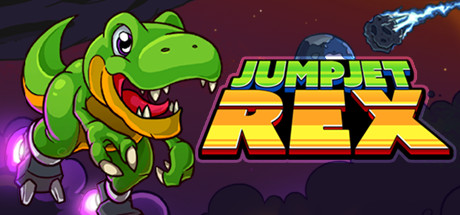 Developer: TreeFortress Games
Publisher: TreeFortress Games
Platform: PC – Steam
There's one creature I love more than alpacas… The tyrannosaurus rex. As such, I always adore games featuring dinosaurs of any sort, but JumpJet Rex immediately stood out. Not only did it feature a cute little dino, but it also wears cute jumping boots! The 2D pixelated platformer seemed simple enough, so I jumped right in and found it totally exceeded my expectations.
Unlike most platformers, Rex's boots allow for infinite jumps. They also allow for horizontal speed boosts, and speedy, vertical rocket jumps. To descend quickly, Rex does a great butt stomp. Levels rely on speed, although it's not necessary to play things quick if you don't want to. Your main goal on each of the 40+ levels is to fly through gold rings which unlock an exit. Along the way you can nab gold coins to spend on t-rex customization.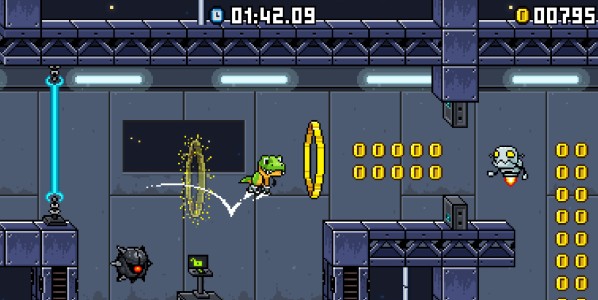 What I like most is that JumpJet Rex gives a taste of speedrunning to folks like me who have no chance at otherwise jumping into that community. Every stage offers players three stars if they can survive without ever dying and also beat their par time. The latter proves quite a challenge, requiring careful Rex control and continual second shaving. After a while I gave up but it was fun to be super speedy while it lasted!
It's only near the end that the game faltered. I beat the final boss in less than a minute on my first try – awesome! Then came the last stage. No spoilers, of course, but it amped up the challenge more than anything else before and threw in a count down timer and hard to see landscape for added fun. If not for banging around on that stage for half an hour my enjoyment would have remained high. With that said, there's still tons of the game which was totally worth it.
JumpJet Rex brings platforming enjoyment to players of various skill levels and is fun almost the entire way through.
---

4 out of 5 alpacas
---
Review code provided
About our rating system