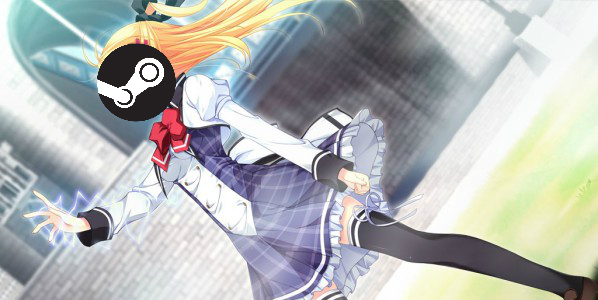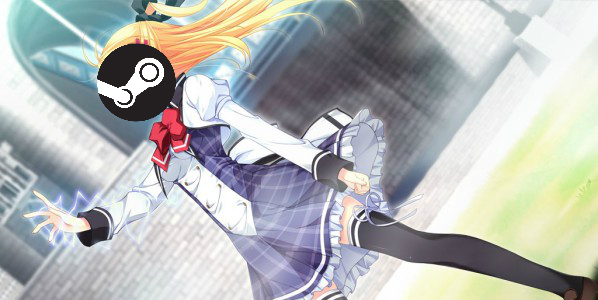 2016 was an interesting year for Steam. According to Sergey Galyonkin of Steam Spy, 38% of games available on Steam were released in 2016. That means 4,779 titles hit the popular digital marketplace in a single year. The news shocked many, though just makes sense given the increasingly thin barrier that Steam Greenlight presents to getting onto the storefront.
My belief is that 2017 will be another record-breaking year for Steam – albeit not to the same ridiculous level that 2016 was. Of course, if Valve does something like remove the Greenlight requirement entirely then I'll easily be proven completely wrong. In any case, I wanted to know more but didn't want to wait on Steam Spy to provide information. This led me to creating my own method of collecting Steam release data that I intend to keep up with throughout the year.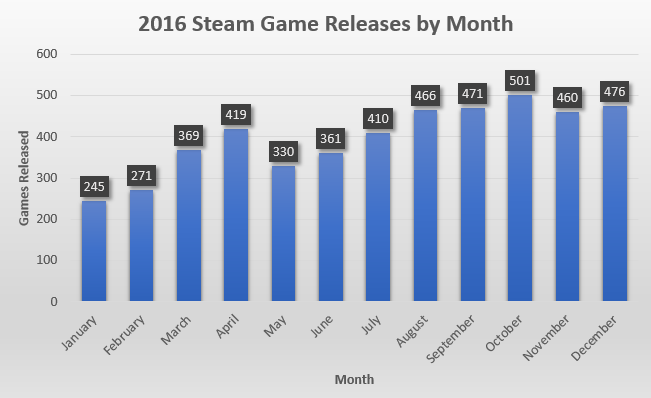 This method of collecting new Steam release is incredibly simplistic and 90% automated. However, there are some caveats. The largest is that my method looks specifically at things launched within the "Games" category on Steam. This means that movies, demos, and other software are ignored. However, items that prove tough to classify (such as a lot of virtual reality content) is only counted if the developer lists it in the Games category. I do not intend to go back in and add listings, which may leave out a few items worthy of being counted.
With all that said, let's dig right in with the information gathered for Steam's new releases in 2017. This month saw 467 game releases. Some of those may have been Early Access titles released previously that saw final release now. Each full week of the month had more than 80 releases, with the breakdown ending up as 85, 90, 126, and 104 specifically. The cost of these games (not taking launch week discounts into account) followed this pattern with weekly costs of $448.70, $662.12, $1,103.96, $901.05, and $446.44.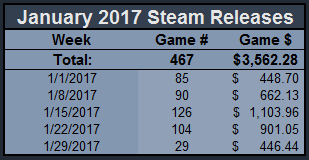 Adding all that up results in the 467 games selling for a cumulative $3,562.28. That's quite a lot of money – and January is hardly a busy month as far as game releases are concerned. The average price fell around $7.63, though already dozens of January titles have found their way onto far cheaper bundles via Groupees, IndieGala, and more. Just 29 of the 467 launched as free to play in some form (either completely free or with microtransactions).
62 titles feature VR support or requiring it outright, making 7.78% of all releases working with Oculus Rift, HTC Vive, or another headset. On one hand, this proves a positive sign for early adopters. On the other, it might point toward a flooding of the market with incomplete, simplistic projects. 60 games launched into Early Access during January. 28 VR games jumped to Early Access which means that approximately 47% of Early Access titles were VR-based. That is nearly half of Early Access being used to further VR initiatives. It remains to be seen how many will eventually graduate from the program in the future.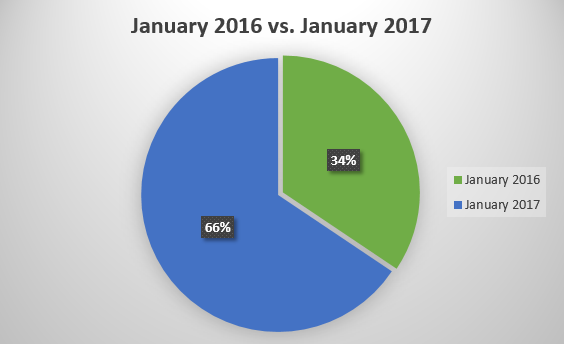 How does this stack up to 2016? By using Steam Spy's data, 245 games hit Steam in January last year. With that said, their 2017 tally suggests just 288 for January this year, which is far less than my count. Steam Spy have been dealing with issues lately due to a change in the Steam API, though – and also only count games if they have at least one owner. We'll trust their count of 245 for January 2016. In that case, there were basically double the releases this January. If this trend holds throughout the year, then it looks like we're in for a tremendously game-filled 2017.