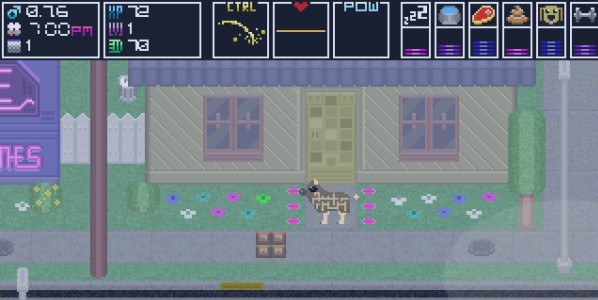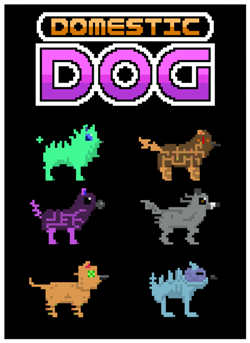 Developer: Surreal Distractions
Publisher: Surreal Distractions
Platform: PC – Steam, Desura
By now many abhor the "funny simulator" fad in gaming. Well, I'm not! Domestic Dog Simulator is a lovely little title I first discovered via Desura and was very excited to see it hit Steam. Having played again after my first foray a bit ago, some aspects have actually changed! However, the main game is still the same. You still play as a randomly generated doggy trying to survive.
Every time you boot up Domestic Dog Simulator you're treated to a new alien/robot/whatever dog-like creature. Its goals are simple: Stay fed and hydrated, flea-free, get some exercise, and pee/poop on stuff. As you navigate around the tiny town you'll discover odd, but cute things. For example, the arcade currently features three games to muck around with. The coolest aspect, however, are the secrets hidden right underneath the surface.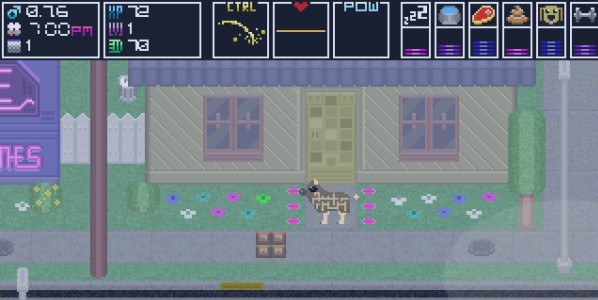 At first glance it really feels like Domestic Dog Simulator is an incredibly simplistic, repetitive game. It is certainly repetitive in that you need to constantly refill your meters (lest the dog die), but play long enough and you'll uncover new areas and other great Easter eggs. Achievements offer slight hints for what to do or where to go, if you need it. My biggest complaint is that every time you close the game you're saying goodbye to that dog and its run. I don't have the time to sit and game for hours on end!
With that said, the developer has shown that they are still hard at work on Domestic Dog Simulator. No, it's not in Early Access but Surreal Distractions continues to add and tweak features in response to players. They've even addressed the complaint of new dogs on launch and may offer a solution. Controller support is incoming as well which is great considering the current keyboard controls are iffy. Domestic Dog Simulator might be immensely simple, but sometimes that's exactly what I'm looking for.
---

3 out of 5 alpacas
---