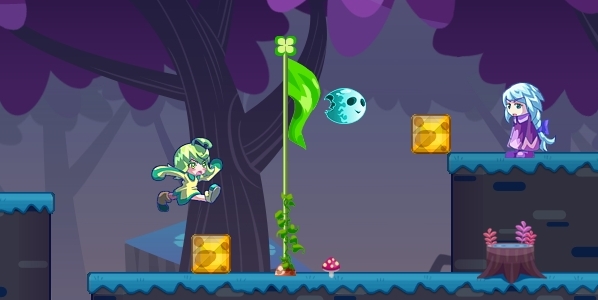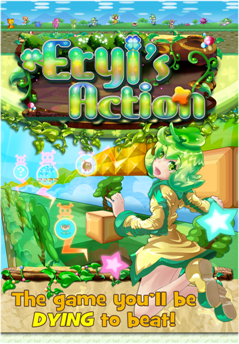 Developer: Xtal Sword
Publisher: Nyu Media
Platform: PC – Desura, Direct, GamersGate, Playism, Steam
I rarely get angry at video games. When people talk about wanting to throw their controllers across the room I just look on in abject terror. What about a video game could make you so mad that you want to damage $40+ peripherals? Last year I played Eryi's Action for the first time and found it ridiculous, but purposefully so. Now that I'm revisiting it on the Steam launch, my feelings have changed slightly. My rage was stoked, but not so much to ignore the inherent funniness of the experience.
Eryi's Action looks like a cute little platformer. The world is cartoony and brightly colored. Lead character Eryi seems quite pleased with her adventure, swaying her arms to and fro for an idle stance. Music plays like some sort of cheesy Super Mario Bros. ripoff that is just catchy enough to get stuck in your head. Then you step forward and – conk – a pan falls from the sky and KO's Eryi. Wait, what?
Oh, so it's that kind of game. This incredibly cruel tricking of the player begins and never lets up. Whenever anything looks safe you quickly realize it isn't. Moments like this are common: Hey, look at that easy jump over a ledge! Suddenly a block appeared that made me fall right down into the pit?! Memorization of trap patterns is required. Levels aren't that long, at least, but that didn't stop me from retrying puzzles zillions of times over.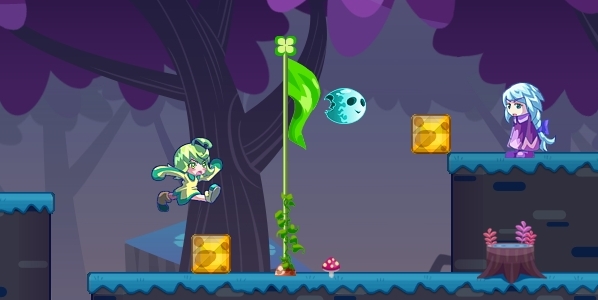 There was a part early on that stumped me. I racked up 50 deaths in attempts and then realized something. For some reason, my Xbox 360 controller was not allowing Eryi to run at full speed. She was instead running at a slower pace, making a certain jump impossible. I had in fact been making this fiendish game even harder (as it turns out, running requires pressing a button instead of analog stick control)! From there, I lovingly admired Eryi's "new" speed by using a keyboard. Of course, this was a short-lived moment as the obstacle suddenly leapt up and crashed down onto her head. Normally, my screaming is internal, but this time I let out a real sound – a laugh.
Had I gone insane? No, it was the result of Eryi's Action being purposefully evil that was so amusing. My frustration would always get close to boiling over but then subside thanks to unexpected traps. Sometimes, the traps are absolutely hilarious. For example, after experiencing normal enemies until this point, the second chapter features a chicken that will actively jump up and carry you skyward if you try to stomp them. Why? Because it's a game about messing with expectations!
If you think you can handle rigorous and continual game-based punishment then, by all means, pick up a copy. Those who would rather play a "fair" difficult platformer have a wealth of other choices. Eryi's Action is not fair. It is a monstrous exercise in player-focused cruelty and I dig it.
---

3 out of 5 alpacas
---
Review code provided
About our rating system