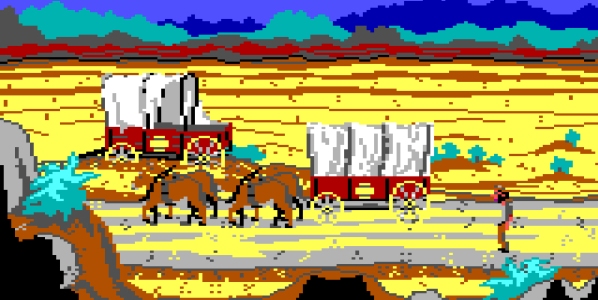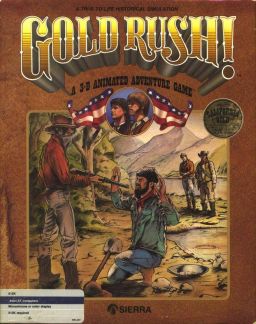 Developer: Doug MacNeill, Ken MacNeill
Publisher: Sierra, KISS ltd
Platform: PC – Direct, DOS, GamersGate, Green Man Gaming, Steam
After having recently whet my appetite with 1849, the California Gold Rush has become a topic I've found myself more interested in. Surprisingly, there aren't a ton of games covering the time period. Gold Rush!, originally developed in 1988, is set right before the gold rush in 1848. Instead of being all about panning for gold, the game is more of a travelogue about what it took to actually make your way to California.
This is certainly an interesting approach, and one that many might not expect. You begin the game with a steady job at the bank, a house, and no family to speak of. 11 years ago your brother left town and you haven't heard from him since – until today. As such, you decide to head out to find him. Of course, rumors have also been spreading about gold in California which means many other people have decided to head West too.
Gold Rush! focuses primarily on the journey from New York to California. Players choose from one of three routes to take: Cape Horn, Panama, or by land. Each route offers a completely different experience and puzzles to solve. Each route also provides copious information about the journey. Sometimes text glosses over harsh realities of the time while at other moments it faces them head on. It was certainly interesting to experience each journey, to say the least.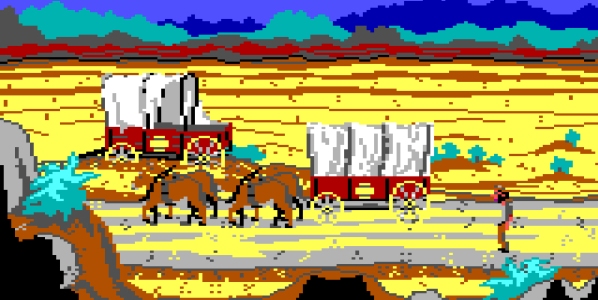 Some modern gamers like to make fun of adventure games with text parsers. In this game, all you ever really have to do is combine an action and object such as "give money" or "take rope" so it's not bad at all. The graphics are about what you would expect from late 80s tech and the audio is nearly nonexistent (and grating when it chimes in). Still, the journey is quite cool! It's only once you finally reach California that the puzzles become more challenging, and at times annoying. This weird shift in difficulty was definitely unexpected.
When you consider the time in which it was made, Gold Rush! is a very effective adventure game. It teaches players a bit about the California Gold Rush and offers multiple ways to experience that trip. The Steam release even includes design documents for the game, which are an unexpected treat. Pick up Gold Rush! and see if you could survive the trek to California.
---

3 out of 5 alpacas
---
Review code provided
About our rating system