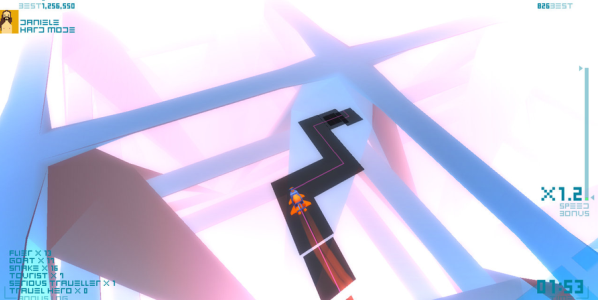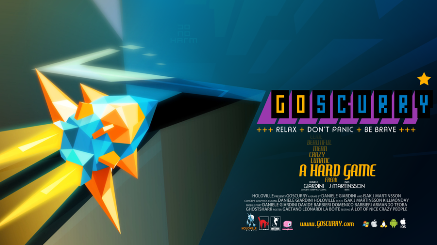 Developer: Holoville Games
Publisher: Holoville Games
Platform: PC – Direct
Some video games make you tense, while others make help players unwind. The question is, is it possible to relax right in the middle of a fast, challenging experience? If you think so, then Goscurry is definitely for you. The game is certainly a bit odd, but also an incredibly cool experience. Just make sure you can relax before giving it a shot.
Goscurry is a sort of rhythmic racing game. Players take control of a small craft and fly above polygonal cities and landscapes via incredibly narrow pathways. These air streets build only a few meters in front of you, so you're never sure if they will keep extending forward or have tons of turns. Turns aren't as bad as you might think though, as they only go left or right at 90 degree angles. Of course, cruising down the futuristic one-lane highway reveals other tricks…
Simply making precise turns isn't all there is! Once out of the tutorial mode, you'll quickly encounter obstacles in the form of walls and gaps. Short walls and gaps can both be jumped over, while walls in the center of a road need to be dodged. It can be hard to get the timing for these down, at least it was for me. Harder modes even change the orientation of the camera, making the once "easy" task of driving around winding paths incredibly difficult again. This is one hard game.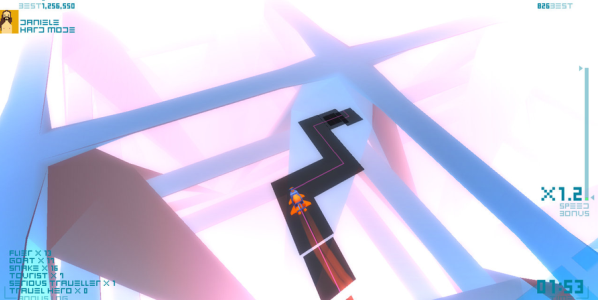 Unfortunately, there's not too much to encounter while playing at the moment. There are a handful of difficulties, vehicles, and cities to fly over but it doesn't feel like Goscurry is quite there yet. All the same, I have had a heck of a time playing it. It's definitely one of those games that gets you in "the zone". Once there, it's possible to rack up higher scores than ever before and beat out (most) everyone on the leaderboard. Secondly, the music is phenomenal and you can purchase the soundtrack for a few dollars more.
Some won't feel that this isn't a very feature-filled game and they'd be right. If you need your games packed with content then go elsewhere for now. However, if you've ever had a taste for arcade games, experimental rhythm titles, or simply love zoning out with a game then Goscurry is perfect for your needs! Every time I want to put Goscurry down I can't help thinking "just one more try" and getting sucked in again.
---

4 out of 5 alpacas
---
Review code provided
About our rating system