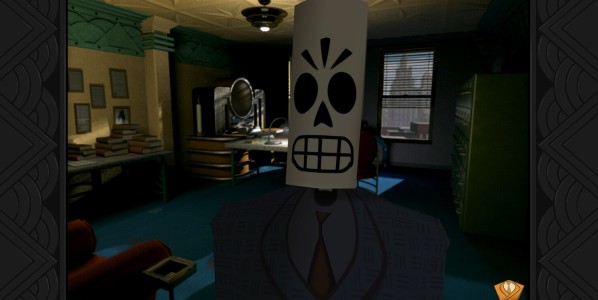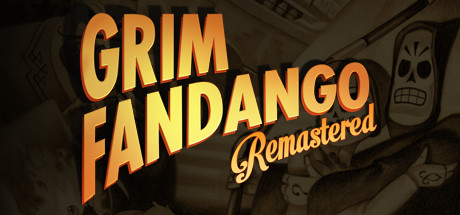 Developer: LucasArts / Double Fine Productions
Publisher: Double Fine Productions
Platform: PC – GOG*, Steam PSN – PS4 Vita
I have chased the specter of Grim Fandango for years. When it first launched my attention was captivated by magazine articles and photos. I wanted this game – but my computer was not nearly capable enough of running it. Fast forward years until I found a copy at the thrift store… but my computer was far too modern to play it correctly. Finally, Grim Fandango Remastered has given me the chance to play this beloved point and click adventure!
Well, honestly I wish this had happened years ago with the original release and not Remastered. Buuuut… we'll get to why that is in a moment. First, one must get all the obvious discussion about Grim Fandango out of the way. It tells a phenomenal story with an awesome cast of characters who all exist in El Marrow – the "Land of the Dead." Manny is a salesman trying to work off his debt by selling travel packages to spirits. Unfortunately, he only ever seems to get lowlives who qualify for super cheap packages. Everything changes when he steals one customer from his coworker and things spiral out of control.
Nearly everything is pitch perfect: the visuals, music, voice acting, and overall story arch are a joy to watch unfold. Some puzzles aren't particularly logical but this was still a big issue in the 90s. Grim Fandango Remastered leaves most everything alone aside from implementing a new control scheme and giving characters less pixelated bodies. There's a pretty neat commentary track as well but beyond that it doesn't feel like enough work to warrant a word like "remastered."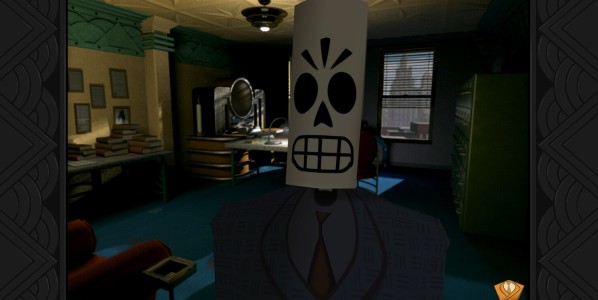 Then there are the glitches. Oh boy, those glitches (on PC at least) are monumental. I encountered multiple visual glitches as well as game-breaking bugs that would not allow me to progress in three puzzles. Considering the "puzzle logic" in the game, it's very easy to simply not realize that an integral part of the puzzle isn't triggering or has suddenly disappeared. Oh, sometimes it freezes too because why not? Here's hoping a ton of patches arrive soon to sort the game out because right now Grim Fandango Remastered is a mess.
So what is the end result? This is most assuredly a classic game with amazing characters, art, and a multi-year tale but the current release makes it a challenge to enjoy. Some folks out there have played without glitches rearing their ugly head and that's fantastic! I just wasn't one of them. Grim Fandango Remastered, as it currently stands, could cause irreversible damage to the original's reputation.
---

2 out of 5 alpacas
---