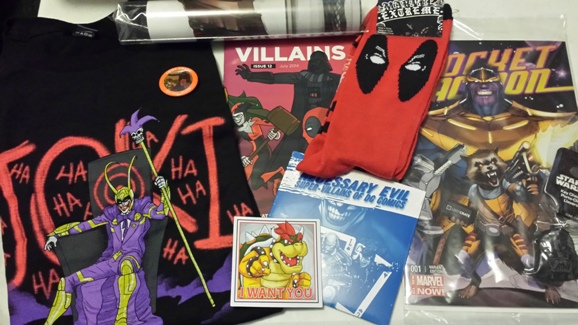 I love [thing] of the month clubs. Unfortunately, I"ve never had the disposable income to really dive into any! Since my initial searches for subscription boxes it seems that a whole host of far cooler ones have launched. There are lovely things like OyatsuBox for Japanese snacks, IndieBox for boxed indie games, and Loot Crate which touts a box full of geeky goodness each month.
Luckily for me and my wallet, I was given the chance to review July's Loot Crate! Each month is themed in some way and this one focused on villains. Considering I've always had a fondness for the baddies in games, comics, movies, and all that this was definitely a good starting crate for me.
So, what was inside the box?! As it turns out, a whole heap of stuff despite the relatively small form factor of Loot Crate's box. My eyes were immediately drawn to Deadpool socks because, well, Deadpool. After that I quickly spied a shirt depicting a mashup of Joker and Loki. A small poster was also rolled up which begged for its immediate unfurling. In fact, it was two posters (featuring Joker and Harley Quinn) with extremely high quality artwork.
Of course, Loot Crate's July box still held more goodies. Next I noticed the smaller things such as a pin, Darth Vader keychain, Bowser magnet (which was immediately put to use), and DVD for the documentary Necessary Evil: Super-Villains of DC Comics. Considering I love "unique" documentaries it was a huge surprise to be handed one I'd never heard of before! The most surprising (and impressive) inclusion for July's set though was definitely the Rocket Raccoon issue #1 comic with Loot Crate-exclusive variant cover. I appreciated that it even came bagged and backed.
Even though I'm not a big comic book lover I could tell that this selection of goodies was pretty darn excellent considering the price of a Loot Crate ($13.37). I mean, if nothing else, fun graphic T-shirts tend to cost $10 at the low end of things. So to get a whole host of fun knick-knacks, a documentary, and comic makes the subscription box seem very worth it. Honestly, now I'm tempted to subscribe just to get a new set of surprise "gifts" once a month! Even if it turns out I don't adore every themed box I can always share the goodies with friends who do. Loot Crate seems like an excellent deal for people who love geeky media or have someone in their lives who does.