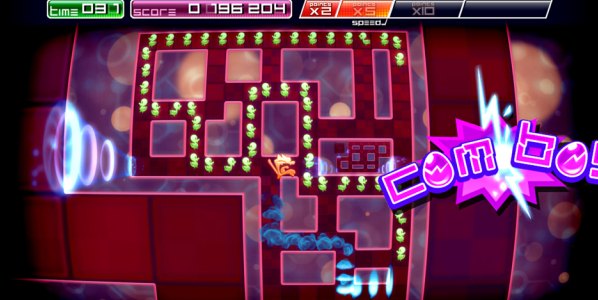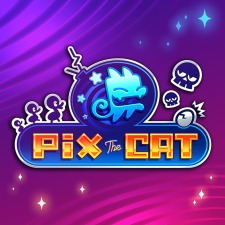 Developer: Pastagames
Publisher: Focus Home Interactive
Platform: PC – Steam PSN – PS4, Vita
Pix the Cat launched on PS4 and Vita last year as one of those PS+ Instant Game Collection titles. At that point I heard tons of people expressing just how good it was! Unfortunately, I didn't get around to playing it during that time frame. Instead, my waiting resulted in being rewarded with a Steam release. For those who haven't already played it on PSN, let's jump right into what it's all about.
Players control a blue, square-shaped cat named Pix and must collect eggs, which hatch into chicks, and deposit them in little warp holes. The play field looks a bit reminiscent of arcade classics like Pac-Man with a 2D board and twisty rooms. After collecting eggs, the chicks follow directly behind Pix in an increasingly long line. You cannot run into this line – or walls.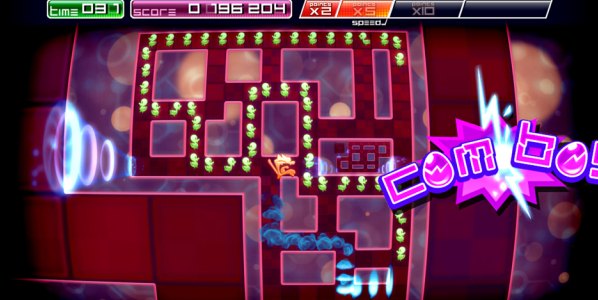 As such, Pix the Cat takes on a fast-paced arcade vibe with heavy puzzle inspirations. While playing you'll need to discover the most efficient ways around each room to maximize chick drop offs and points. It'll likely take multiple run throughs to develop said strategies, but the gameplay is enjoyable enough to keep this from becoming monotonous. The only issue I really had was how slow Pix starts off as the most enjoyable gameplay comes when you're rushing through stages with the timer nearing zero.
Beyond this main mode there are more thoughtful, puzzle-y sections as well as a local multiplayer mode. I'm not a huge fan of the additional modes as the "classic" one is most enjoyable. With that said, Nostalgia mode has outrageously cute visuals so check that out at least once! Pix the Cat is cute, challenging, and a great new take on arcade style.
---

4 out of 5 alpacas
---
Review code provided
About our rating system