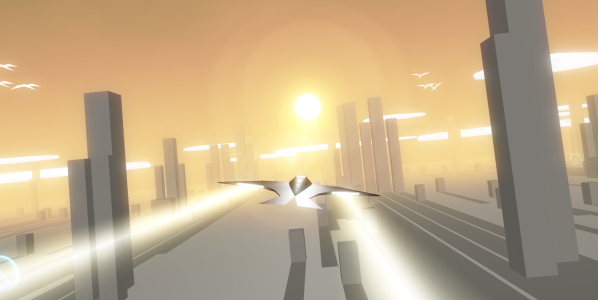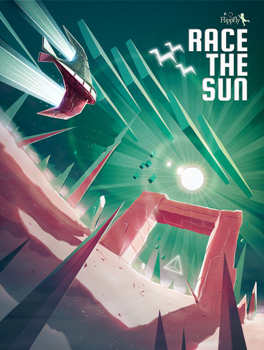 Developer: Flippfly
Publisher: Flippfly
Platform: PC – Direct, GOG*
Although I enjoy racing games, it's pretty safe to say that the genre is usually pretty stagnant. Instead of innovation, the focus tends to be on continually improving graphics. That's why Race the Sun is such a refreshing experience. At its core it is a racer, but an incredibly unique one.
Race the Sun has players controlling a sleek, solar-powered craft. It has wings, which allows you to glide at times, and a lot of possible upgrades. The goal is to race as long as possible before the sun goes down. Of course, this is an inevitability, so the real fun comes in trying to prolong the light a little more each race. This is accomplished via pickups on the playing field, which can reverse the sun's descent, speed you up, and the like.
There are no other players to race against in the main mode, although there is asynchronous co-op and leaderboards to place on.  Basically, it's just your craft alone in a host of procedurally generated levels. Getting used to the specifics of each level is exciting, and you'll never be able to master them, as main stages change every day. Featured user levels also switch out regularly.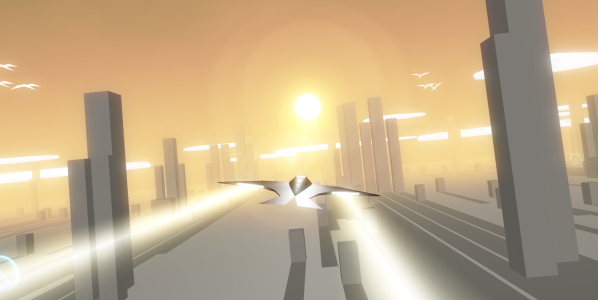 Playing is a very simplistic but entertaining experience as you glide your craft gracefully (or not) through obstacles. At full charge, you'll be speeding along and hoping that your skills are enough to avoid crashes. The visuals and soundtrack help make Race the Sun less stressful, as well. It looks futuristic, which appeals to me. Then there is the music which is quite soothing. With these elements combined, it is more enticing to continue coming back into a stage for one more try.
Of course, this compulsion is also aided by a checklist of tasks to complete. Do well, and new levels and items are unlocked. This manages to be one of the best and most cumbersome design choices for the game. While some tasks are easy to complete, others will remain locked on your screen a while because of their difficulty. Not completing them keeps new features hidden, and that is annoying.
While Race the Sun excels at simplicity, it is this minimalist tone that may be viewed as a "lack of content" to some. However, that's absolutely the wrong way to approach it. Sure, there are not hundreds of levels to choose from right out of the gate. But there are infinitely many stages available since they are updated daily. There is a devoted fanbase already involved with the game, and there will only be more once this Greenlight success finally launches on Steam.
---

3 1/2 out of 5 alpacas
---
Review code provided
About our rating system – *Affiliate link