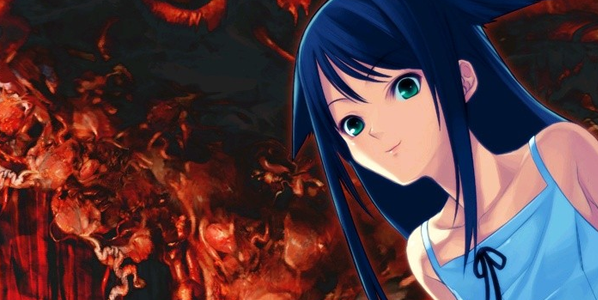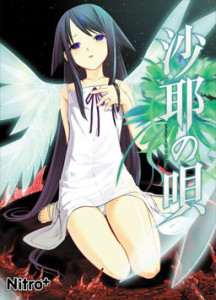 Developer: Nitroplus
Publisher: JAST USA
Platform: PC
What a fabulously strange visual novel Saya no Uta is. I honestly didn't know what to expect when I dove into it one night. But, boy, am I glad I did.
Saya no Uta is the Lovecraft-esque story about a man that sees the world differently after a fatal car accident that took away both of his parents. Not only is everything covered in bloody flesh and guts, but everyone looks and sounds like monsters. Then a girl appears – a seemingly normal girl in this disgusting new world. Who is she?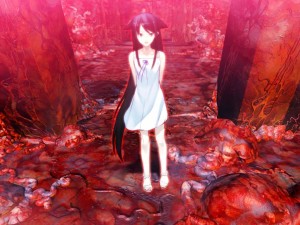 This visual novel is a rather short one; you could probably go through all the paths in a single night. But it packs such an intricate story in such a small time frame.
For those seeking romance, there's plenty of that between Fuminori and Saya. As this is an eroge title, there are also a few sex scenes between them. Most do not add much when it comes to the story (as is the case with most eroge), but there is one incredibly important point in the story that does involve adult content. In any case, Fuminori and Saya's relationship is beautiful – no matter how twisted it may be.
Saya no Uta also offers some supernatural/paranormal elements, too. It's not just about the relationship between Fuminori and Saya, after all! Quite some interesting stuff happens in Saya no Uta that is sure to intrigue many.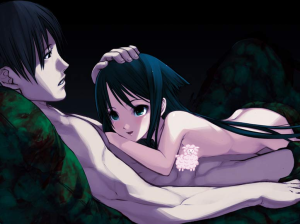 I loved every minute of Saya no Uta. It's definitely one of those games that had me thinking long after completing it. If you're a self-proclaimed visual novel enthusiast, then having Saya no Uta in your collection is a must.
---

5 out of 5 alpacas
---