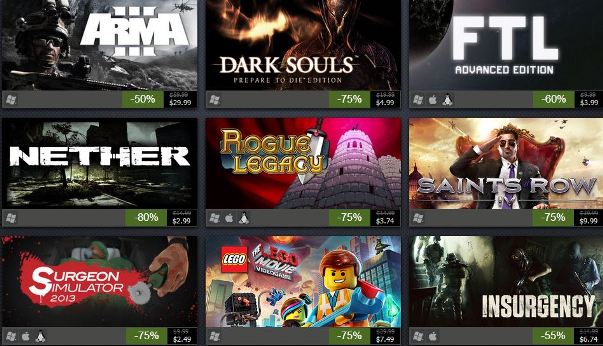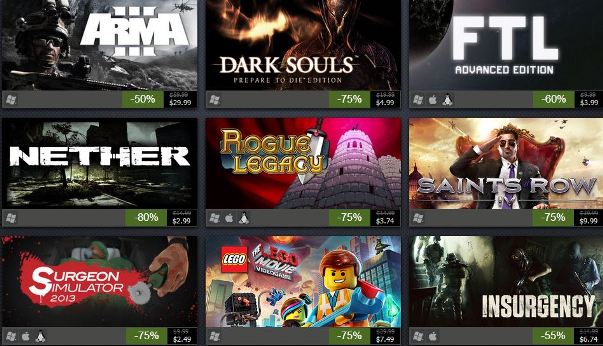 Hey folks, it's day five of Steam's annual Summer Sale! Are you still unsure which of these games are must-buy deals? We're passing our consumer savvy onto you so read on!
"Buy" means simply that this is a very good price for the game. Still, "buy" isn't necessarily giving any particular game my seal of approval either. It's just a price that seems fair for those interested in the given title. "Wait" means I suggest waiting for another sale. The price very likely is the lowest it will be during Summer Sale 2014, but it is estimated to be cheaper in sales weeks and months down the road. Of course, if you can't wait then go ahead and buy!
Arma III – $29.99 – If serious military simulation is your aim then the ARMA series is definitely your game. As the game is still fairly recent, this is the biggest discount so far. If ARMA II is anything to go by though then ARMA III has far bigger discounts in its future. Wait.
Dark Souls: Prepare to Die Edition – $4.99 – Warning! This game requires Games for Windows Live and plays best with a 360 gamepad (apparently). If you're fine with both those things then this is a great deal for an incredibly tough game. Buy. 
FTL Advanced Edition – $3.99 – FTL has seen some great discounts over the past few years. GOG was the best with $2.49, which would be an absolute steal. With that said, FTL is such an enjoyable game to me I'm going to say go for it anyway. Buy. 
Insurgency – $6.74 – Here's a multiplayer-only game with a focus on intense FPS action. It appears to be decreasing by a dollar per major sale. My hope and expectation is to see this drop at least to $5, which will likely be the case next year. Wait. 
The LEGO Movie – Videogame – $7.49 – This is a surprisingly huge discount on a non-indie game from 2014. Warner Bros. doesn't seem keen on dropping games below 75% which likely makes this the best deal for some time. Buy. 
Nether – $2.99 – It is possible this is a very good game. The current discount is the highest yet, but it's too hard to ignore the immense hatred for Nether in Steam reviews. The game currently boasts a 90% negative review rating. For that reason alone it's probably best to save your money. Wait. 
Rogue Legacy – $3.74 – Rogue Legacy is a game I immediately got hooked on and was more than happy to have paid nearly full price on. With that said, $3.74 is the cheapest its ever gotten and an amazing price. Buy. 
Saints Row IV – $9.99 – Although this isn't my kind of game I do recognize that the series has a lovingly devoted fanbase. If you can wait then IV will definitely become cheaper, though. For example, Saints Row the Third is currently $4.99 and I fully expect IV to reach that price point eventually too. Wait. 
Surgeon Simulator 2013 – $2.49 – As part of the Humble Store's introductory sales, one could buy Surgeon Simulator 2013 for $1.99. In PewDiePie Bundle 2 it was also available alongside others for a buck. I think the game is ridiculously challenging (and therefore fun) but even 75% may be too much for something that most will only play once or twice. Wait. 
Today I purchased the Can't Stop Laughing Bundle (BattleBlock Theater and Castle Crashers) for $2.49 and crafted a Magical Diary badge.