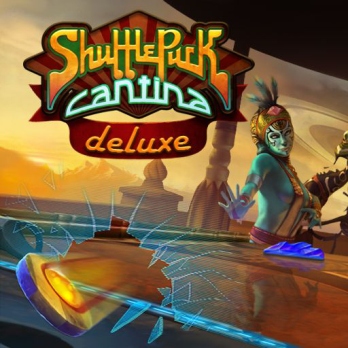 Developer: Agharta Studio
Publisher: Agharta Studio
Platform: Mobile – Android, iOS PC – Steam
If you were a PC gamer back in 1989, then perhaps Shufflepuck Cantina Deluxe will look familiar to you. That's because it is Agharta Studio's homage to Shufflepuck Cafe. It turned the relatively tame world of air hockey into a pretty cool video game where you faced off against odd (often unhuman) enemies. Shufflepuck Cantina Deluxe definitely follows this formula and with a lot of modern flourishes.
This time around, the game takes place in a cantina not unlike something you might see in a Star Wars movie. At the start, you can only enter the first floor and play air hockey against three opponents as you learn the ropes. Characters each provide missions for you about who to beat or how many times to beat them. Completing these missions is integral to progressing your character up the ranks from a total newbie to a skilled player.
Beating missions is also useful if you ever hope to obtain a lot of Credz for your character. Obtaining enough currency lets you head into the shop and buy new pucks and paddles. Some confer advantages such as a super wide paddle which will make the game easier. There's also a way to buy the backstories of characters to obtain their special skills or even get to swap your character for theirs.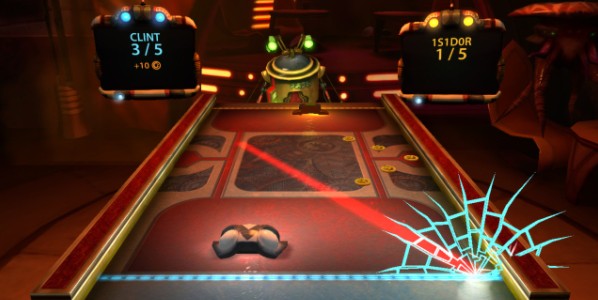 Of course, all of this is just the dressing for a fun, simple way to play digital air hockey. The first enemies might seem simple, but venturing to other levels of the cantina shows just how ruthless it can get. Enemies each have their own specials, some of which are hard to block. Then there are powerups on the board that can help you, help your opponent, or cast an unfortunate effect on you (such as making the paddle tiny). Pair that with some tough challenges and Shufflepuck Cantina Deluxe becomes quite difficult after a while!
Still, this is a pretty entertaining experience. It's funny to see these fantasy and sci-fi characters playing air hockey. The base game is enjoyable and it's always possible to "grind" for more Credz if you can't yet beat certain enemies. Having not played it on mobile devices, I'm not sure which is the better way to play, but it was easy to control on PC. If you do opt for the PC version and own an Oculus Rift, there's even a beta available to let you get your virtual reality on. Shufflepuck Cantina Deluxe is a must-buy for Shufflepuck Cafe fans and a nice choice for those hankering for air hockey.
---

3 1/2 out of 5 alpacas
---
Review code provided
About our rating system