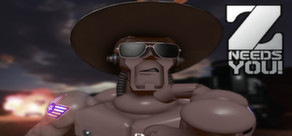 Developer: The Bitmap Brothers, TickTock Games
Publisher: KISS ltd, Kavcom
Platform: PC – GOG*, Steam
I got my first taste of real-time strategy gaming early in life. Since then I've sampled a great many titles in the genre but somehow never played Z by The Bitmap Brothers. This re-release changes things. After finally playing it I'm sad to have missed it back in 1996.
Z is an odd game where two factions of robots (red and blue) fight for supremacy and control of a planet. The odd factor comes in thanks to the storyline depicting the main robots as Wayne's World-style goofballs. It definitely feels a bit dated, but a bit charming as well.
Gameplay also feels unique when compared to other RTSes. For one, you don't create new buildings. Instead you must reach and control the existing buildings across each map. Of course, the enemy can take them from you if you're not careful. The same holds true for vehicles which sit unmanned until someone claims them. The concept takes a while to get used to but works well. My history with Command & Conquer games also made the control scheme a bit difficult to grasp at first. It seems this is a holdover from the iOS release.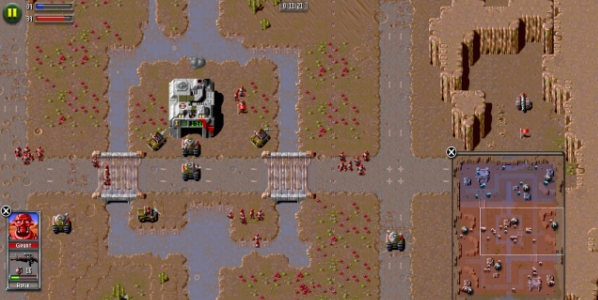 Each stage introduces new facets of gameplay depth to players. For one there are a great variety of deployable robots (grunts, snipers, etc) who all have advantages and disadvantages. Then there are little things like blowing up bridges for strategic purposes. Of course, there's also just a lot of fun nuance to tipping the odds in your favor. Z is pretty tough though, even on easy.
One thing The Bitmap Brothers have always gotten just right are the graphics. All of their titles have incredibly good-looking pixel art. Z's battlefields look far nicer than many modern pixelated games. It appears that the remake has not tampered with the graphics much beyond the GUI to accommodate HD monitors (unfortunately there are no resolution options!). The music is another high point, although the voice samples show their age.
Its rare that games nearly 20 years old hold up so well without a heavy dose of nostalgia to go with them. I hold no fond memories of Z and yet it proves to be an astonishingly good RTS title in 2014 save for its unusual control scheme. It's a shame there's no multiplayer because this seems perfect for playing against friends.
---

3 1/2 out of 5 alpacas
---
Review code provided
About our rating system – *Affiliate Link