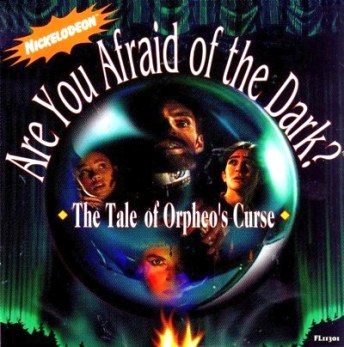 Developer: Viacom New Media
Publisher: Viacom New Media
Platform: PC – DOS, Macintosh
Are You Afraid of the Dark? was one show on Nickelodeon that both enticed and frightened me during its run. Until recently I'd never realized any games existed for the series. Yet, a lone point and click adventure was released! Are You Afraid of the Dark? The Tale of Orpheo's Curse places you in the shoes of the newest storyteller hoping to join the Midnight Society. Depending on how you "tell" the tale determines whether they let you in or not.
It's actually a really cool framing for a digital episode of the show. Of course, you can only tell "The Tale of Orpheo's Curse" but it changes depending how you play. Screw up and the other kids become excited or disappointed over the turn of events and give you hints on how to get things back on track. Of course, this framing is at the sidelines and most of your time is spent with the stars of this story: Terry and Alex.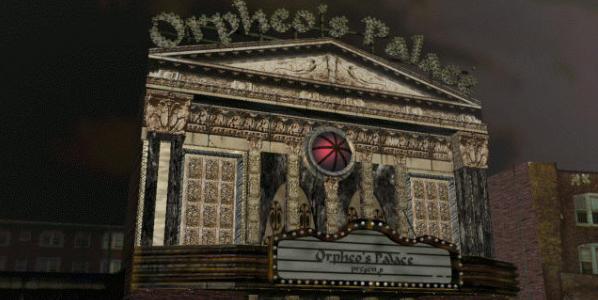 These two siblings have somehow found themselves at Orpheo's Palace – a run down theater which used to show magic performances. Of course, somehow they get in and discover that Orpheo is apparently alive and well and wants to use them in his sinister trick. As you explore you'll discover hidden rooms, a variety of different, but mostly simplistic puzzles, and a surprising amount of danger. With that said, as a game targeted to Nickelodeon's audience it's not tremendously challenging.
What impressed me most about The Tale of Orpheo's Curse was not its mix of FMV and CG animation (as that was suddenly quite hip at the time) but simply how user-friendly it is. Whenever you lose the game offers an immediate return to where you had just been. In fact, if you complete it in one sitting you'd never have to save once. This surprising convenience helped lessen the pain of a final chase sequence and other little flubs. If you like Are You Afraid of the Dark? or even just the early era of 3D adventure games then definitely find a copy of Are You Afraid of the Dark? The Tale of Orpheo's Curse.
---

4 out of 5 alpacas
---