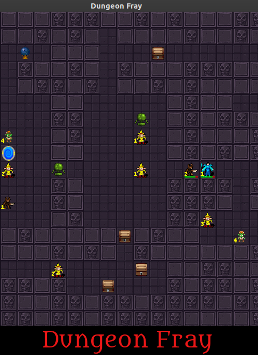 Developer: Nitesh Gupta
Publisher: Nitesh Gupta
Platform: PC
This post is part of the Indie RPG Bundle review collection
 Do you like roguelikes? Well, you'd better if you choose to give Dungeon Fray a shot. That's because this title follows the genre conventions pretty stringently. You begin the game as one of a handful of classes, then get to work clearing dungeons, collecting loot, and leveling up (or dying). So why is it that, as routine as the game is, that I can't stop playing?!
With simple mechanics, Dungeon Fray is extremely easy to get into. There's very little pretense here. You just select your hero and are plunged in the middle of a dark dungeon. Maneuvering around is simple, as is fighting enemies. All you're required to do is bump into them to initiate an attack (Y's anyone?) although you can also cast spells. Once they're dead, you gain much-needed XP.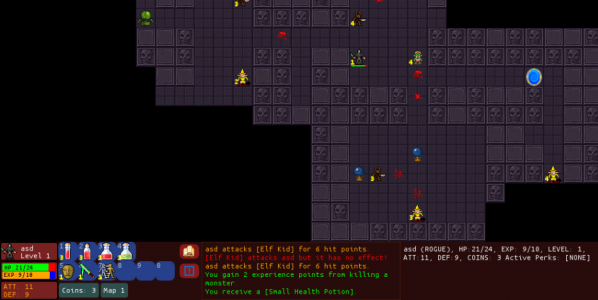 With enough experience your character levels up and that grants a free, much-needed health boost. Of course, you're also collecting money from treasure chests and the like. With this you can increase stats (health, strength, defense) or choose to buy potions and spells. It's important to improve your character but also maintain a healthy amount of items otherwise you'll find yourself dying quickly.
Visually, there's very little impressive about the experience. It has much less finesse than its brethren Hack, Slash, Loot, but somehow that quickly becomes a non issue. I prefer this game by far because it's tough, but fair. You can always keep a close enough level to enemies by clearing floors, and there are a great deal of objects in dungeons to aid you. With easy to understand gameplay/controls and fast action, Dungeon Fray is the kind of game that compels players to go "just one more dungeon" (before playing many more).
---

4 out of 5 alpacas
---