Developer: Minor Key Games
Publisher: Minor Key Games
Platform: PC – Direct, Steam
A lot of things come to mind when people invoke the name H.P. Lovecraft. Sometimes thoughts rush straight to Cthulhu, the Necronomicon, or (in)sanity. Even if you've never read his fiction, you're likely aware of some of these things thanks to video games taking bits and pieces to create their own narratives. Eldritch is one such game that was inspired by Lovecraft, but also roguelikes. It might sound like a winning or awful combination (depending on your proclivity). As it turns out, the results are pretty good.
Players enter Eldritch with little explanation. They are just a woman stuck in a library, or so it seems. After reading some of the tomes, you realize that you can actually transport yourself to a new area by reading one of three special books. What is this strange new place? It's a dungeon filled with treasures and dangerous beings – and you'll have to survive it all. Or, as was often the case for my playthrough, you'll die a lot.
Each dungeon is an odd mass of rooms, spikes, enemies, and objects to be found. Weapons are pivotal to survival later on and it is best to stock up on them early. Often there are coins scattered about as well which you can spend for other items. If you're in danger, try to put the coins in storage though. Upon dying the player loses all they've found thus far, including any coins on their person. The same holds true for keys which are tremendously useful. However, unlocked levels will remain unlocked even after you die, which is quite handy.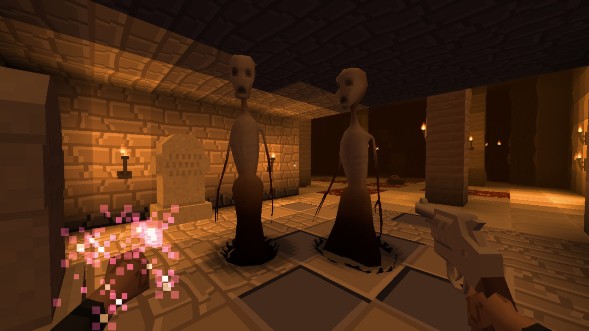 The gameplay itself is based around searching through levels to collect gear and find the exits. Of course, there are tons of monsters that will do anything to keep you from that goal. For about half of Eldritch the game is actually pretty easy. Then some new monster types appear that makes things more challenging – and sometimes even creepy. Sound effects are used to great effect as well.  For example, hearing odd breathing coming slowly closer will definitely cause players to be extra alert. Although there is apparently a very subtle soundtrack, I couldn't perceive it and instead would play my own soft music over the game.
There's an elephant in the room that it's time to address. Eldritch looks tremendously like Minecraft. Or, it at least uses voxel graphics with pixellated skins that are certainly Minecraft-esque. This has been a trend lately for many indie developers and its easy to see why. With such graphics it is easier to worry about the experience, rather than making realistic graphics that are far beyond the scope of a small team. The game itself however is nothing like Minecraft. Aside from being able to blow up walls with dynamite, there is basically no similarity between the two.
Playing through Eldritch doesn't take too tremendously long, but once you do, it reveals a new game+. Anyone who felt the main game was too easy will find this to be a much harder version. Features such as sneaking are actually necessary to survive! Players must also more carefully manage resources. If you felt the main game was too simple, then definitely try and get to NG+ to really start enjoying it. For me, the main game was tough enough. It's a fun little adventure perfect for those looking to build up to more challenging roguelikes.
---

4 out of 5 alpacas
---
Review code provided
About our rating system