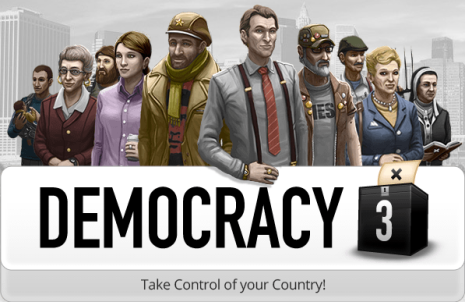 Developer: Positech Games
Publisher: Positech Games
Platform: PC – Direct, GOG*, Steam
Sometime after going through high school, I found myself becoming interested in the workings of American government. It seemed too ridiculous on the news or complex to make any sense, so I tried to learn more about it. Of course, tuning into MSNBC, I gained a skewed perspective (as is true of most Americans and their news outlets of choice). In any case, along the way, I learned about the way a democracy is meant to function as well. With this "wealth" of knowledge, I dove into Democracy 3 expecting a fairly easy time.
It was not easy, even with a tad bit of government knowledge stored away in my brain. If anything, it seems a far more realistic simulation of government complexity than any other political games I've played in the past. Players are brought in with a simple tutorial but even that doesn't aid how overwhelming the main screen with icons first appears. Each icon  represents a facet of government and has ties to other aspects that it affects. Because there are so many things a President must take care of, the screen is absolutely filled to the brim with these icons.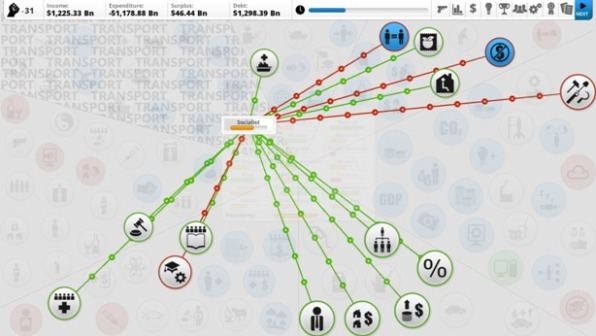 Learning how to use them, thankfully, is easier than it would seem. Hovering over icons lets you see what they do, in case the icon images don't give a good enough hint. Everything from controlling minute aspects of what to tax, to changing the cost of education, to enacting new laws on hot button issues is in your grasp. The main thing that you ever have to worry about is Political Capital. In game, it stands as your currency which recharges after each turn. Without enough of it, you can't enact new policy changes.
Some tweaks might not lead to big changes but others definitely will. In particular, certain religious groups are depicted as having very serious fringe organizations that can and will assassinate you. After this happened to me, I began to consider that my role should be to please multiple groups rather than just my own gains. Of course, you can try and turn the United States into a staunch dictatorship if you really want to! Just expect to make much of your constituency very, very unhappy. It must be noted that you can choose from a handful of other governments to control, but I stuck with the US because it is the one I'm most familiar with.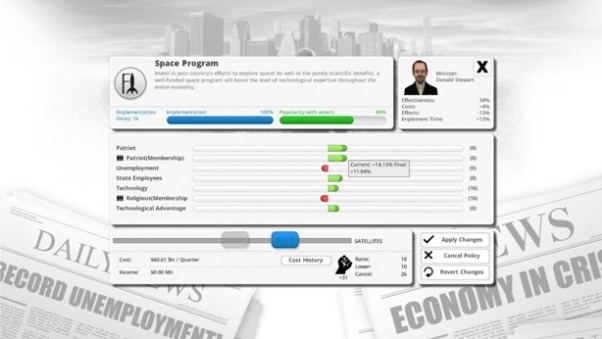 Part of what makes Democracy 3 "realistic" is that there is no way to win the game, or make everyone love you. It's just not ever going to be the case. Similarly, natural or man-made disasters can wreak havoc on your approval level. Yes, it's unfair, but that is something Presidents must contend with. Of course, realism in a political sim is great for some but will confuse or annoy others. Basically, if you don't regularly look up political news then chances are this is not the game for you – although you might learn something by giving it a shot anyway.
The biggest criticism to lob at the game is simply that it is little more than a fancy database setup to let you play President. But then, that's all some of us want to do. Checking the small variances in increasing or decreasing percentages of funding is enthralling for a certain mindset (such as my own). Trying to balance needs of the people versus what you believe to be "right" is a fine balancing act. Democracy 3 does an excellent job at letting the player test out just how good or bad they'd be if they had all the Presidential powers at their disposal.
---

4 out of 5 alpacas
---
Review code provided
About our rating system – *Affiliate link