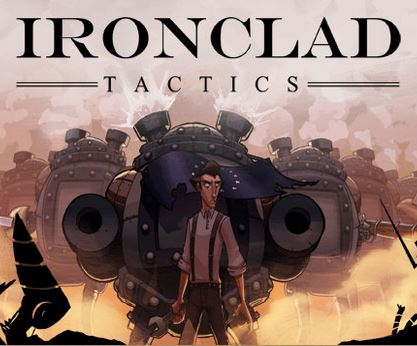 Developer: Zachtronics
Publisher: Zachtronics
Platform: PC
What happens when you mix the tension of the American Civil War with robots? Well, you get something like Ironclad Tactics. As strange as it may seem, developer Zachtronics have managed to pull off the unusual premise with their own brand of complex gameplay. Played as a tactical, turn-based card game it's quite the unique title. Being unique isn't necessarily a qualifier for a good game though, so let's examine it in more detail.
Ironclad Tactics is played via decks of cards and a battlefield grid with opposing forces on each end. The player utilizes robots known as Ironclads, but also is able to use human troops and stat modifiers as well. All of these tools are summoned via the cards, which are pulled from the selected deck. At the start, there's not much deck-building to do – you must successfully complete battles to unlock more.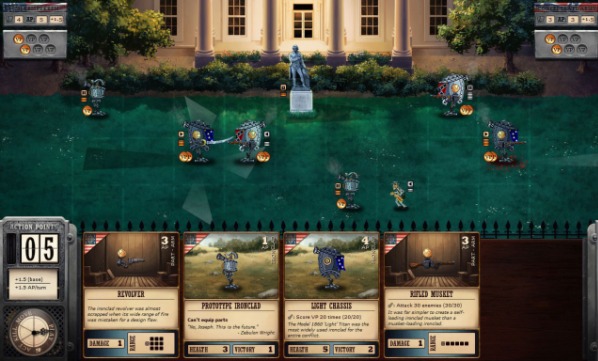 As turns progress, action points are accumulated. AP points are necessary to use any cards as each has its own AP score. Weakling Ironclads cost a measly 1AP while other, more powerful tools are far pricier. Keeping an eye on AP is important as it replenishes slowly. As each turn progresses, you gain AP back, but that also gives the enemy another turn to advance forward. As the decks draw cards randomly, moments of watching the AP meter refill can be intensified further by waiting for the "right" card to be drawn.
If you're now interested in giving Ironclad Tactics a go then be prepared for some tough fights. This is one hard game. No, it isn't as outwardly complex as Zachtronics' previous SpaceChem, but it's still tough. Without the right deck you just won't survive. Similarly, puzzle matches (which require you to use a specific deck) can be difficult too as the decks are unfamiliar. Managing your troops against an onslaught of enemies is fun but expect to deal with a lot of retried stages unless you're a maestro of all card-based games.
With that said, there is a lot of charm infused into the game, making it more than just a basic digital card game. All cards are rendered on the playing field in a cartoony fashion. Between battles, the story is told via comic panels. The art is gorgeously colored although the art style manages to create awkward faces for some characters. Regardless, it helps showcase the effort put into this product which is better than average.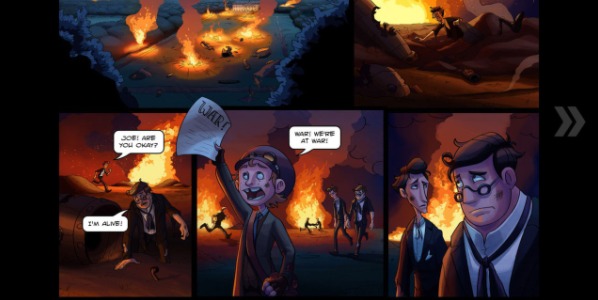 Unfortunately, likely because of low publicity, there are not many players online if you want to hit up an online skirmish match. The Steam Community forums reveal there are some, but you basically have to befriend them in order to give the mode a try. That, or make sure your friend grabs a copy as well. This isn't the fault of the game though so much as it is a typical issue with any online component of indie games.
Ironclad Tactics is definitely not for everyone. First, you have to be interested in thinking strategically while playing. Secondly, you have to be able to grasp some basic card game concepts. The main thing though is being persistent and also willing to experiment with new decks. If you're willing to do all that while playing a single game then go forth!
---

3 out of 5 alpacas
---
Review code provided
About our rating system