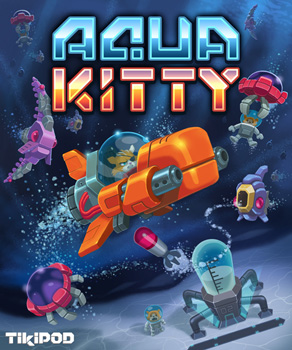 Developer: Tikipod
Publisher: Tikipod
Platform: PC – Desura, GOG* PS Vita – PSN Xbox 360 – XBLIG
One of the first video games that ever hooked me as a child was Seaquest for the Atari 2600. It basically placed players in control of a submarine that had to ferry divers to the surface. However, sea creatures would attack the people first if you couldn't get to them in time. It still stands as one of my favorite games. This is relevant because Aqua Kitty – Milk Mine Defender by Tikipod reminded me of those past experiences. They created a similar, but far more engaging, title.
Aqua Kitty situates players in a world where kitties are in desperate need of milk. They're not just our pets, but instead seem to have taken the place of humans. The top feline scientists have found milk within the Earth and you are now part of the crew who is harvesting it in the oceans. There's only one problem – tons of weird, robotic fish are trying to stop the harvesting effort! As one or two cats (in two player co-op), you run around in a submarine trying to keep the crew safe from the malevolent bots.
Each level has at least one kitty to protect. If weird UFO-like robots get to it, they'll slowly abduct it away until you can't save them. The game would be super easy if that's all you had to contend with, but each stage ups the ante with more fish/robot types to stand in the way. Some bounce and shoot while others act as shields. Things quickly become hectic, but thankfully, the play screen isn't that large. It simply scrolls horizontally and you loop back to the other side after reaching the end of the screen.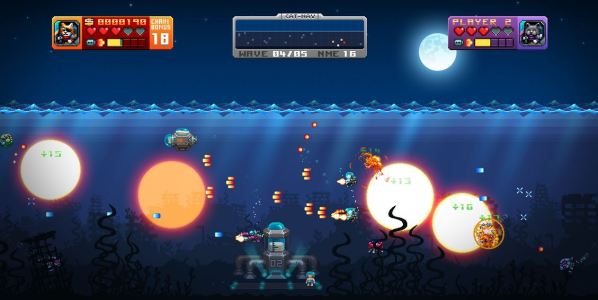 A little radar maps sits at the top of the screen to keep you alerted to when UFO ships are coming. However, it's very easy to feel overrun by other enemies and completely miss that a UFO has arrived. That's when audio cues come in, as the kitty researches will make a distressed mew upon being captured. Rush back and save them if you can! Aqua Kitty quickly becomes a very frantic game, even when playing on easy mode. The high difficulty might make the game impossible to finish for some players (try co-op to alleviate some challenge).
The visuals are another high point. They evoke retro games but also have enough style to be obviously modern. Of course, the pixellated kitties are incredibly adorable as well. Music in the game seems inspired from Commodore 64 greats, which I appreciated quite a bit. As a whole, Aqua Kitty – Milk Mine Defender is a great, well-put together shooter. It's a little short, but considering its origins on XBLIG and PS Mobile, that is forgivable.
---

4 out of 5 alpacas
---
Review code provided
About our rating system – *Affiliate link