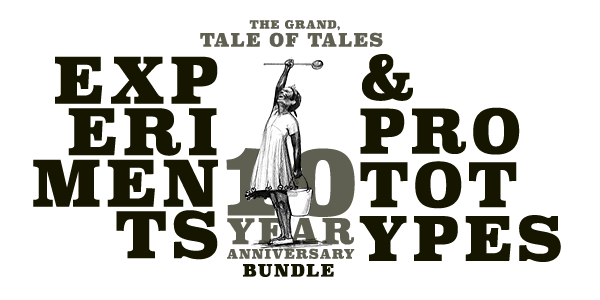 Tale of Tales is one of my favorite developers out there. They're best known for projects such as The Graveyard, The Path, and Bientôt l'été. I shared my own glowing review of Luxuria Superbia a little while ago and absolutely loved it. Even when I don't adore one of their projects, I still respect what they're doing.
To celebrate their tenth anniversary, Tale of Tales has a bundle up with many of their past experiments and prototypes. I won't list everything here as the bundle page does so in wonderful fashion. Some of the items I'm most interested in include 8 – their first unfinished game project (that may actually be coming back in the future!). There are also tests and prototypes for The Endless Forest, Fatale, and more.
Basically, this collection is something that no Tale of Tales fan should miss out on! It is running from now until December 25th. Because you must pay a $5 minimum, this bundle might not be accessible by everyone, unfortunately. If you do have an iOS device though you can grab Luxuria Superbia for free today!