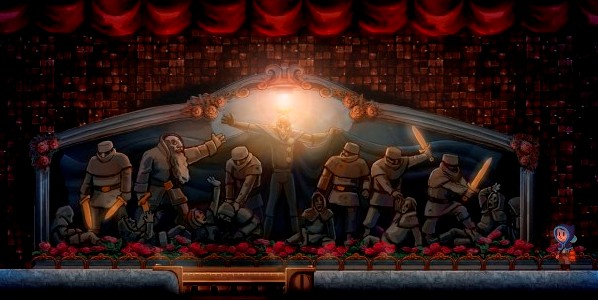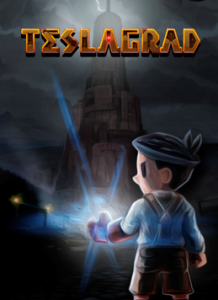 Developer: Rain Games
Publisher: Rain Games
Platform: PC – Desura, GOG*, Steam
What is it about the puzzle platformer that continues to draw independent developers to the genre? In many respects, it doesn't seem the easiest type of game to make. Instead, it seems one that (despite rampant saturation) is a genre full of new and exciting possibilities. Teslagrad is the latest puzzle platformer out that shows the greatest promise. Whether it lives up to expectations, however, is debatable.
Teslagrad is most certainly trying very hard. By simply starting up the game for the first time you're greeted to a rainy night against gorgeous hand-drawn backdrops. Without any words, the story begins, as a young boy is forced to run far away from home in the stormy night. He comes upon the Tesla Tower and enters, wherein he will face a great many puzzling challenges.
Yes, Teslagrad is so named for Nikola Tesla. Why? Because the primary feature of most puzzles deals with electricity (and magnetism). You begin with nothing, but gain new items which allow you to interact with electrically charged platforms, charge items yourself, and the like. For some reason it was hard for me to get a firm grasp on electricity puzzles, though. It's not as if I hate the genre. On the contrary, most of my free time is spent playing various puzzlers. So why these puzzles continued to feel more like guesswork than skill was an incredibly odd experience. It shouldn't have to be said, but your own playthrough may very well feel different.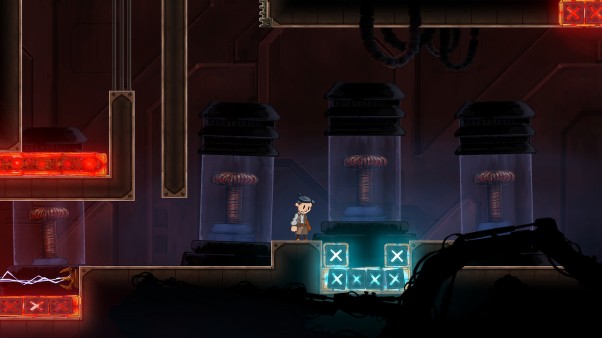 Metroidvania fans will be happy to know that Teslagrad also fits into that style. Tesla's Tower is not a completely linear thing and you can charge into a variety of rooms whenever you want. If one puzzle seems too hard at the moment, go elsewhere. Maybe you'll find a new item! Or, maybe you'll stumble across one of the game's five bosses. Considering how expansive the game feels, it was a bit of a letdown to see there were not more boss encounters. They are pretty neat battles, even if they rely very heavily on simple pattern recognition.
So we've got a game that is entirely ambitious, looks great, and has a huge non-linear castle to explore. Yet, something about it only ends up feeling slightly above average. Puzzles that required very precise jumps were incredibly annoying, especially when there were not checkpoints in the middle of them. Making a game mechanically tough can be done well, but it doesn't feel like Teslagrad pulls that off. After all, it varies back and forth between easy and hard. Usually, if a game is hard it stays that way throughout, or slowly ramps up in difficulty.
There are definitely players out there that will love the intriguing experience that Teslagrad provides. If you think that's you then go ahead and buy it! For me, I just couldn't get over the feeling that the designers crammed all their expertise into creating something gorgeous and expansive but forgot the most important ingredient – heart.
---

3 out of 5 alpacas
---
Review code provided
About our rating system – *Affiliate link