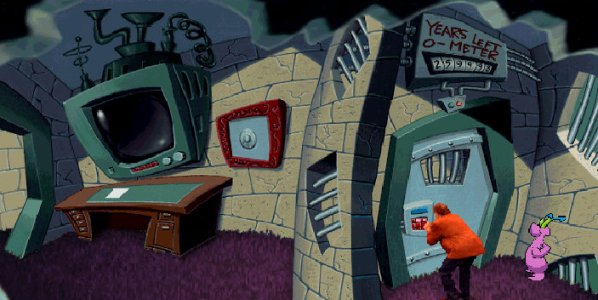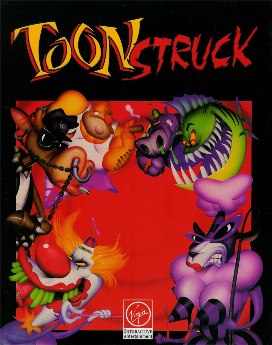 Developer: Burst Studios
Publisher: Virgin Interactive
Platform: PC – DOS, GOG*
Toonstruck is one of those games that, despite being a fan of adventure games, flew totally under my radar until recently. For whatever reason I kept confusing it for the Cool World video game which doesn't seem too great. In Toonstruck you play as a cartoon animator named Drew Blanc who is just another cog in the machine. He's been dreaming of creating a new cartoon for years but the powers that be simply want him to produce more of the same.
On the night of a big assignment things get weird – Drew is magically drawn into a TV set which leads directly to the world of cartoons. There he immediately runs into that dream character of his, Flux, and is tasked with saving Cutopia before being allowed back to the human world. As it turns out, you'll have to collect 12 different mystery items in order to save anyone. Just like any other point and click adventure this involves chatting up locals, solving puzzles, and doing lots of weird stuff.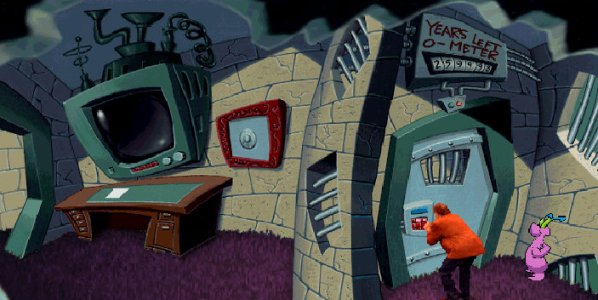 In regards to other puzzle games of the time Toonstruck actually starts out quite easily. Puzzles ramp up in difficulty, but not exclusively. Only puzzles related to combining items stumped me thanks to their fairly rare appearance. The most enjoyable aspect is simply wandering around this cartoon realm and seeing the juxtaposition between cuteness and "reality." Characters in Cutopia are sweet to a fault, but some still manage to make hilariously pointed insults. Despite the necessary cartoony visuals, this is a game meant primarily for teens/adults.
Some of Toonstruck's jokes don't work anymore as they might have in the 90s. A few jabs at types of people fell particularly flat, but most of the time I was in awe of how hilarious the game manages to be. Humor is hard in games, especially if you've got slapstick cartoon sensibilities in the mix. Even if it were lacking the star power of Christopher Lloyd (and many esteemed voice actors) Toonstruck would still prove a hit.
---

4 out of 5 alpacas
---
Review code provided
About our rating system – *Affiliate link