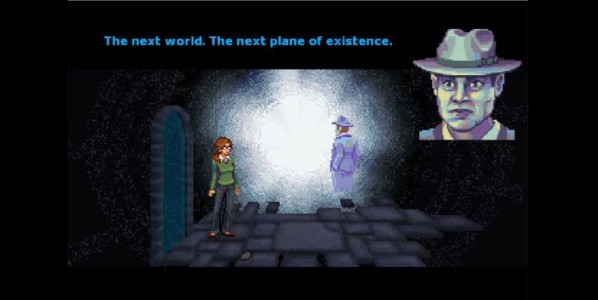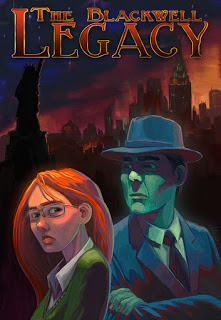 Developer: Wadjet Eye Games
Publisher: Wadjet Eye Games
Platform: PC – Direct, GOG*, Steam
The Blackwell series by Wadjet Eye Games is one of the most notable independently published adventure games out there. In fact, in 2006, it was part of a very exclusive club as "episodic" titles hadn't really broken into the mainstream yet. In anticipation of the final game in the series, Blackwell Epiphany, I'm playing through the previous four. My mission begins with The Blackwell Legacy.
The story begins as we meet a woman named Rosa releasing the ashes of her aunt over a bridge. Rosa seems confused, unsure of how things will play out now that the only family she had has passed away. However, she soon learns from her aunt's doctor that the family may have an unprecedented issue with hereditary dementia. Shaken and distressed, Rosa returns home where she comes face to face with her worst nightmare – a ghost. Has her cognitive ability already started its decline or is this ghost real?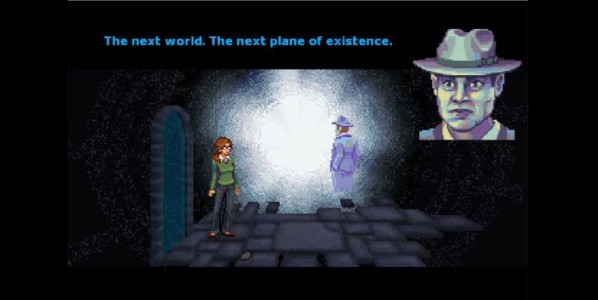 She quickly steels herself with the decision that the ghost – named Joey – is real enough. Using his 1930s vernacular he explains how the previous Blackwell women also had Joey tag along with them in their waking lives. He doesn't even know how it happened but he has become something of a legacy to the family line. According to Joey, as long as he's around, the two of them must help wandering ghosts come to terms with their own death. By acting as a medium, Rosa will be able to finally set their spirits free.
The Blackwell Legacy certainly spins a good yarn. As far as gameplay is concerned, it's pretty standard point and click adventure fare. However, it's incredibly easy and that was something I really appreciated. There are no ridiculous puzzles and only a few bits of deduction necessary anyway. Mostly, you're safe to guide Rosa and Joey to various destinations and see how things unfold.
Since the series includes five games, the first is incredibly short. I devoured the experience in one two hour sitting and wished for more. Of course, there was, as I have the other games too! In any case, The Blackwell Legacy proves to be a very promising start to a long-running series. I look forward to seeing what happens next!
---

4 out of 5 alpacas
---