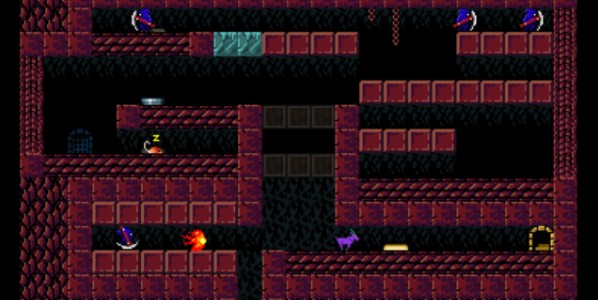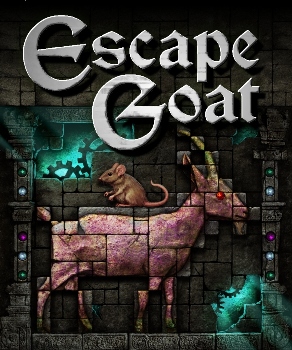 Developer: MagicalTimeBean
Publisher: MagicalTimeBean
Platform: PC – Desura, Direct, GOG*, Steam (Reviewed), Xbox 360 – XBLIG
Escape Goat is one of those games that has managed to evade me since it launched on Xbox Live Indie Games. Many took notice of it at the time, but for me, my interest in any XBLIG title was negatively colored by a few unfortunate experiences. Only now have I finally gotten to spend time with Escape Goat and can't believe I passed on it for so long.
The game is a puzzle platformer, which in itself isn't impressive anymore, but thankfully there is a lot that manages to set it apart from the zillion others out there. The first thing anyone is likely to notice is the purple goat. This is your character, of course! The goat can jump, double jump, and ram to speed up. This unusually colored goat teams up with a mouse which can travel on walls to trigger buttons from afar, or even teleport you under the right circumstances.
As the story begins, you realize that the goat and every other animal is stuck in the Prison of Agnus. All players need to know is that they're going to go through a series of rooms to find sheep and save them. Once every (or most) animals are saved then our goat hero can finally escape. Overall, this grants a little over 50 solvable levels. There are even more difficult ones to complete after you beat the game as well.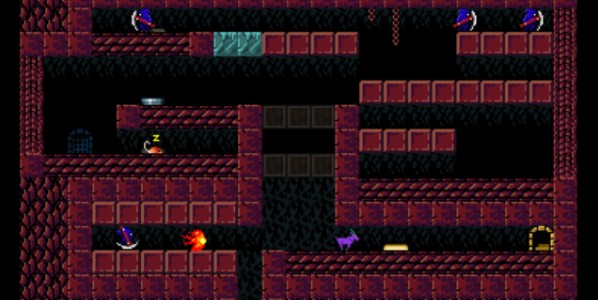 Unlike most puzzle platformers, it actually feels like the majority of Escape Goat is actually solvable. This isn't a slight against any other games. Generally, it's hard for me to work through many puzzle games because they seem to be hard right from the start. But here it's easy to grasp the concepts of buttons and switches and how to most effectively use your mouse friend. As new features are introduced, such as exploding barrels, you work them into your puzzle-solving knowledge and continue to move forward smoothly.
It might only take a few rounds of guess and check to figure out the solution to a stage, but sometimes the controls can muck up plans. Playing with the Xbox 360 gamepad is recommended and is what I did. With this setup, it seemed that the goat was not perfectly attuned with my thumbstick motions. The issue only became apparent on a few late stages where I was attempting to perform some speedy hoofwork.
For the most part though, everything about Escape Goat is lovely. The visuals are a very attractive pixel art style, the chiptune music is suitably excellent, and puzzles themselves are varied from stage to stage. Beating the main game only takes a couple of hours but once you're done with that it's fun to then jump into the extra hard stages or even try your hand at the stage editor. In any case, Escape Goat only costs $4.99 which actually seems cheap for the amount of puzzles provided. It also happens to be the best game featuring a purple goat out there – at least until Escape Goat 2 launches!
---

4 1/2 out of 5 alpacas
---
Review code provided
About our rating system – *Affiliate link