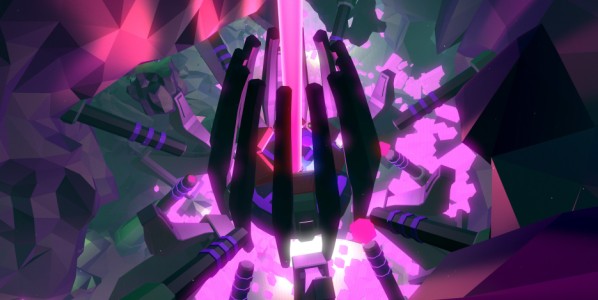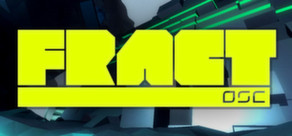 Developer: Phosfiend Systems
Publisher: Phosfiend Systems
Platform: PC – GOG*, Humble Store, Steam
FRACT OSC is an interesting experience. It is part game and part musical plaything which for some reason is not common in the rhythm/music game genre. Some may not enjoy that, but for me, it was a great way to feel and see music in a fictional space.
Players begin by being unceremoniously dropped into a polygonal 3D world. When I say that I mean that the entire landscape is large, rough cut polygons. Everything is big, blocky, and angular but not in an unattractive way. The alien landscape is beautiful thanks to simple but effective architecture and a great color scheme. Purple, pink, red, and blue/green hues saturate the landscape with a digital glow.
Gameplay is revealed through a gentle series of tutorials. After meandering a bit to places that seem important, you learn how to manipulate various objects. Upon doing so, machines and buildings become active. Sometimes this creates musical cues and usually involves lights strobing or changing. Solving puzzles and exploring are the main brunt of FRACT OSC unless you enter the Studio.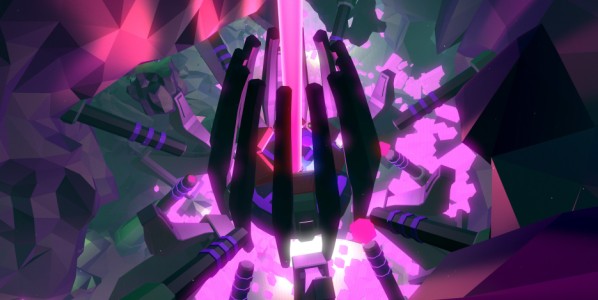 The Studio starts with all featured locked. Progressing through puzzles unlocks things although you can choose to unlock everything if you just want to mess around immediately. Players can interact with an unexpectedly proficient synthesizer and related musical tools to create their own music. There's even a button to export your new masterpieces to Youtube. The original soundtrack by Mogi Grumbles is already awesome, but it's wonderful to see a game based around music giving players the tools to create their own stuff.
It was hard not to fall desperately in love with the unique landscape of FRACT OSC. The way the music and world mix is incredible, as are the included musical tools. It's a shame the entire experience weren't longer, or perhaps made it easier to sidestep some tough puzzles. Still, many players should be able to experience all that this game has to offer.
---

4 out of 5 alpacas
---
Review code provided
About our rating system – *Affiliate Link