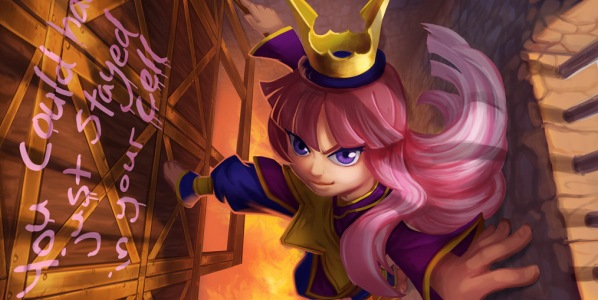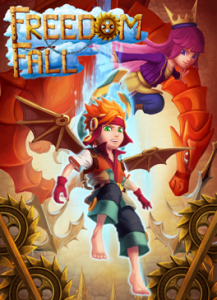 Developer: Stirfire Studios
Publisher: Stirfire Studios
Platform: Android, iOS, Ouya, PC (Reviewed)
Freedom Fall is one heck of a game. It might not be long or incredibly complex but it offers up some entertaining platforming play alongside really neat writing. But I'm getting ahead of myself. Let's discuss the basics of the game before showering it with positive platitudes.
In this game you play as a shoe-less boy with hair that looks like fire and is apparently named Marsh. Young Marsh is trapped in a tower filled with traps. His goal is to fall from the top of the tower to the bottom but it's far from easy. If you've never played a vertical platformer before then this might take a little getting used to. After all, it can be hard to judge your fall if you can't even see what's below you. Usually it isn't so bad as to cause many repeat jumps, at least.
Why is Marsh in this tower seeking his freedom? By reading the scrawls painted on the wall, you quickly become introduced to a princess character. She is the one who has placed diabolical spikes and saws all about the tower as a means to stop you. Try and avoid them but you'll definitely hit many on your way down.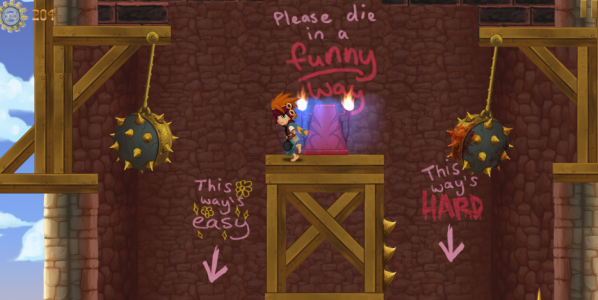 The princess serves as by far the most interesting character (of the two) because she pushes the narrative forward. She describes how and why she must punish Marsh, as well as how she abhors the typical princess narrative. This includes wearing dresses, being saved, and apparently talking to birds. It's incredibly refreshing to see a character like this although we primarily see her through her personal graffiti.
Controls are a bit finicky, though. I played with a 360 controller on PC and found them to be not as precise as they could be. Primarily my issues were with hanging/climbing on parts of the wall. Of course, the 360 gamepad is known for being rather imperfect for specific control so who knows who really is at fault here.
In any case, Freedom Fall is a very brief but fun experience. It only took me an hour to play through once, although there is definitely reason to replay if you want to collect all the gears and reach a higher score. I just wish we could have seen even more of the princess and her story.
---

3 out of 5 alpacas
---