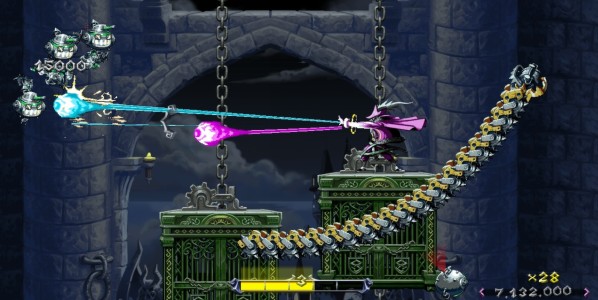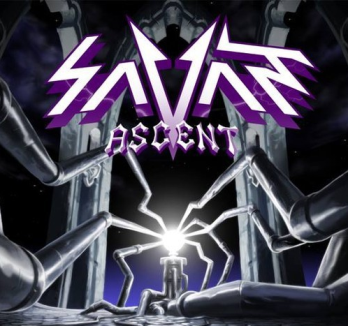 Developer: D-Pad Studio
Publisher: D-Pad Studio
Platform: Mobile – Android, iOS PC – Direct, GamersGate, Steam
Usually, when musical artists venture into the world of video games the results are, well, not so great. There are such "classics" as the Make My Video series on Sega CD featuring INXS, Kriss Kross, and Marky Mark. Then there are more modern but equally unusual titles such as 50 Cent's shooters. Those who recognize SAVANT as a musician might fear the same fate for Savant – Ascent. Thankfully, his input didn't create some ego-stroking game-based catastrophe.
Savant – Ascent is a 2D shooter with a bit of a twin stick vibe even though that's not really the case. On each stage you control Savant and must shoot up enemies that come at him from all angles. However, stages are quite small. Instead of running around you simply dodge left, right, or jump. Shooting is controlled via mouse or a controller's analog stick. Sometimes, baddies will explode and leave a CD piece behind. Collecting and completing the four CDs grants Savant upgrades.
Upgrades are incredibly useful and basically necessary to beat the game. Therefore, you'll probably spend a lot of the first stage trying to collect them. Savant – Ascent is pretty fast paced so it won't take long. The most useful upgrades for me were the first and third, as they allowed for an extra powerful shot and markers for incoming enemies respectively. One negative thing is that it can be hard to notice the enemy notifications and sometimes there are none if the game thinks you already see the approaching attack.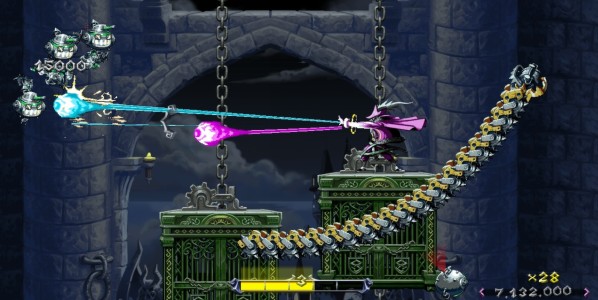 So basically, this is quite a tough experience. Even after obtaining all upgrades there's still a degree of skill (or just plain persistence) required to win. But doing so doesn't take very long at all. There are three quite cool stages and a cool two-part boss fight… And that's all. Completing the story mode took under an hour and that's coming from someone who is not particularly skillful with most games. Yes, there is a time trial and endless mode, and Savant – Ascent is based on scoring, but it's still quite short. When you factor in the price – $1.99 – it seems far more sensible.
Although the game has fully launched on PC there are some issues that need addressing. For one, having an Xbox 360 controller plugged in at launch causes issues with keyboard and mouse control. All you have to do is unplug it if you wish to use them, but the simple error is unfortunate. There was also a time when I received a "fatal error" upon barely starting a level and had to quit the game entirely. Blemishes like these are far from game-breaking but will definitely turn some people from it before even playing.
Interestingly, D-Pad Studios have committed to providing more stages and music in the future at no extra cost. If this turns out to be true then it'll be a great way to enhance the value. As it stands, the current music is a lot of fun even if you're not a SAVANT fan. Similarly, the visuals are crisp although I have to wonder if the final boss design was wise. As it stands, Savant – Ascent is a brief, but entertaining little game. If it can be spruced up to fix a couple of errors and see new content then it will definitely be worth returning to.
---

3 out of 5 alpacas
---
Review code provided
About our rating system