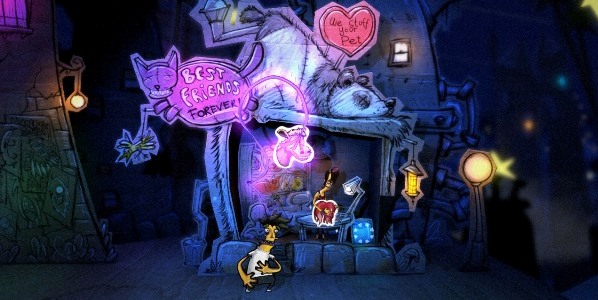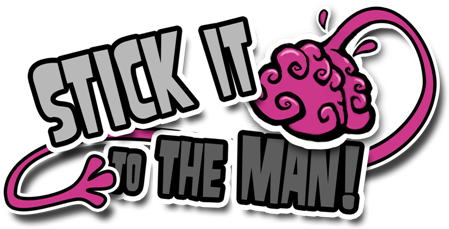 Developer: Zoink!
Publisher: Ripstone
Platform: PC – Steam PSN – PS3, Vita
"Stick it to the man" is a phrase I don't think I've ever heard used in a serious context. The Man, of course, is meant to be big government or any sort of authority figure. In the case of Stick It To The Man!, there is actually someone called The Man and he's coming for Ray. Ray's story begins on the way home from work. Everything is going fine until a secret government weapon flying overhead crashes directly on top of him. Ray doesn't die but he does end up with this weird thing lodged in his brain. Now, Ray has got a noodly pink arm coming out of his head and it can read people's minds.
As you might have already guessed, this is quite the silly game. Ray isn't particularly adept at anything himself. Instead, the hand is used to interact with the world. After reading thoughts, puzzles are revealed. Sometimes, people even conjure up images in their mind for Ray to take in the form of a sticker. Here's where the name mainly comes in, as these stickers must then be used to solve other people's troubles. Removing and applying stickers is the main goal, although there are "stealth" sections as well.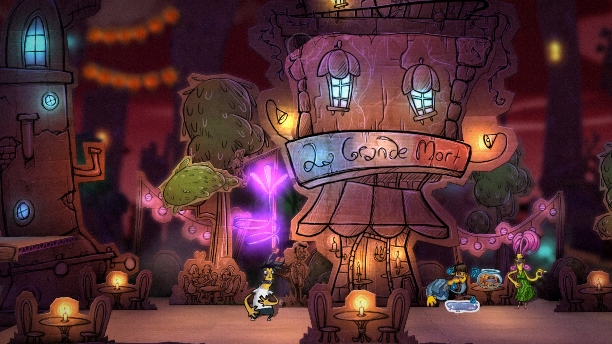 There are times when The Man's goons are on patrol on platforms. Your goal is to make it through without getting nabbed along the way. Although it seems simple enough, there is a lot of room for failure. On the Vita, you are supposed to be able to touch strategically placed pins so the hand will grab them and drag Ray safely along. Perfect timing is necessary because these areas are often cramped, meaning bad guys might be only an arm's length away. Unfortunately, more often than not I found myself pressing the touch screen directly over a pin but the touch wouldn't register. This caused many frustrating deaths. Although there are ways to make these sections easier (via sticker usage) I still found them harder due to technical troubles.
If you ignore those sections though there is definitely a lot to dig about Stick It To The Man! First, there is the world. Everything is done up to look like cardboard cutouts. Buildings and other features look simply like sharpie drawings and it is very cool. On the Vita the graphics shine and it seems they look even better on PS3. Stages have their own style and it's a lot of fun to see what the world has in store for you.
Then there's the writing. I won't say the story is fantastic, because it's still a pretty simple "go from point Y to Z – oh, and save your girlfriend" affair. What does stand out is the script for all the characters Ray comes across in the game. Each expresses their problems mentally with ridiculous candor. There were a multitude of times that I just had to stifle laughs at something a character had said. Many games try to be funny, but it's hard to actually find one that is.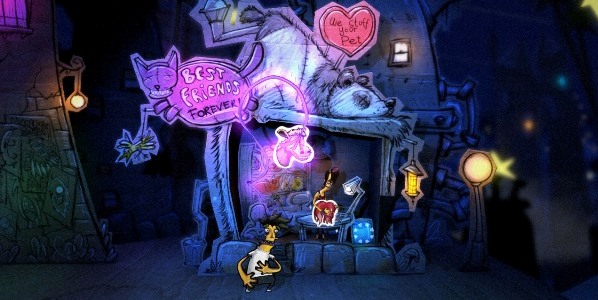 Of course, not everything is perfect. One of the strangest aspects of Stick It To The Man! is how much of a dark comedy it turns out to be. Despite having stickers and a pink noodly appendage on his head, Ray meets with primarily unhappy individuals. Many begrudge their horrendous life circumstances, poor jobs, lost loves, and more. Sure, many characters have positive conclusions, but the path to them can be quite awkward.
All in all, Stick It To The Man! is a fairly fun, but flawed experience. The weird sometimes non-functioning of the Vita touchpad is the biggest strike against it. Even so, some have complained about the PS3 version accidentally targeting the wrong objects. Perhaps the PC version will be the best way to play? In any case, check Stick It To The Man! out if you have three to five hours to kill and don't mind putting up with a few technical snafus. The writing and attractive visuals definitely make up for it.
---

3 1/2 out of 5 alpacas
---
Review code provided
About our rating system