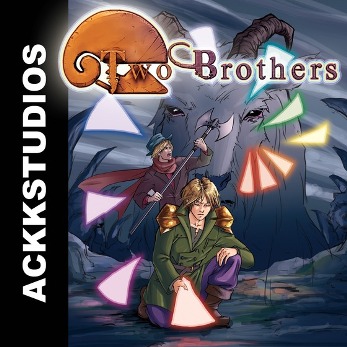 Developer: Ackk Studios
Publisher: Ackk Studios
Platform: PC – Steam
Late last year, Ackk Studios came to Kickstarter in an attempt to finish their game. Two Brothers showed a great deal of promise with a GameBoy-inspired aesthetic and not only reached its goal but more than doubled it. A little over a year later the game has finally arrived on Steam (with digital console versions arriving later on).
The story starts out like many others in gaming history. We are greeted to a couple who are explorers. Apparently married and happily in love, things are going swimmingly until the klutz of a husband steps on a trap. The wife dies, but it isn't long before the husband joins her. Except he can't – he wakes up in a strange alternate world. There are colors here (instead of the green/black style of GameBoy)! Apparently, it isn't his time to die yet. He cannot rejoin with his wife and must return to living. This is just the first inkling that Two Brothers is doing something different.
It continues to slowly be ushered in during play. The game itself feels like it would be right at home on a handheld. Although it isn't a perfect recreation of GameBoy technology, it does capture the feel. When playing in its native resolution the game is incredibly tiny (although, I think a little larger than the size of GB screens). Exploring through the top-down landscape, helping townsfolk, and fighting enemies are all handled well.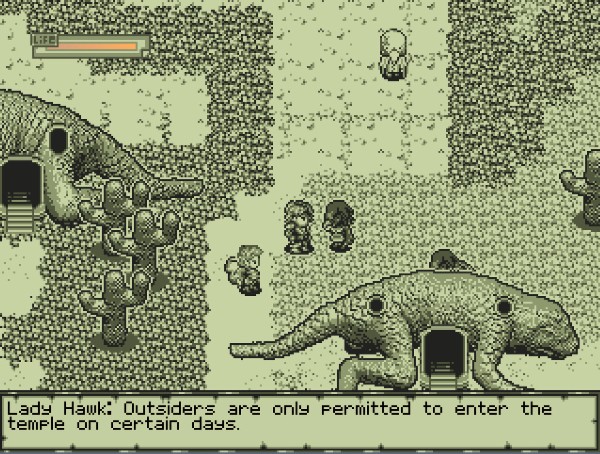 But there are little things that seem "off" in regarding this as a classic-style game. For one, there's the story which utilizes death in an unusual fashion. In most games, when you die you get a game over screen or go back to a checkpoint. Here, you go back to this colorful and strange land above the clouds. If someone has died, you might even find them there to talk to. Another odd little touch is the health restoring hearts. These things actually look like real human beating hearts!
Two Brothers is an expansive experience that touches on The Legend of Zelda without stepping directly on its toes. This is quite impressive considering how many games do fail to be different from their subject material. That's not to say this is a wholly new experience, but it is certainly refreshing. Give Two Brothers a look if you still wish Nintendo were making GameBoy titles instead of their fancy new 3D things.
---

3 1/2 out of 5 alpacas
---
Review code provided
About our rating system