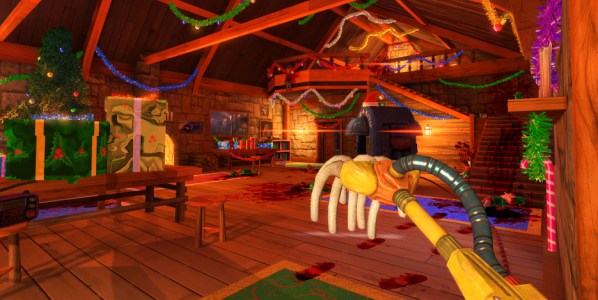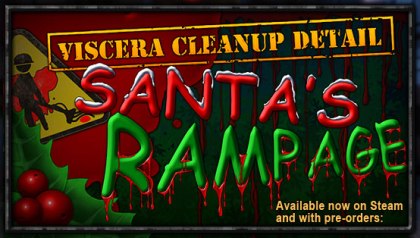 Developer: RuneStorm
Publisher: RuneStorm
Platform: PC – Steam
Are you the type of gamer who can perform the same sort of menial task over and over again? Does it sound like fun? Although this might seem weird to many, it definitely can be fun and that is proved by playing Viscera Cleanup Detail: Santa's Rampage. In this game, you're tasked with cleaning up the mess Santa has left behind after a murderous rampage at the North Pole. All you're armed with is a mop, bucket, and sensor to detect bloody bits and trash.
If nothing else, this is a pretty unique game. First-time janitors might find it a bit confusing, but there's not much to it. After starting the job, you can choose to start mopping up the blood or disposing of bodies, bullets, and the like. No matter what you decide on, the beginning is pretty rough. Mopping requires water buckets dispensed from a machine but the water quickly gets overwhelmed with blood. Sometimes, you'll knock the bucket over and cause a huge new blood spill. Oh, and stepping in blood at all will have you leaving a trail of fresh bloody footprints throughout the cabin.
Picking up bodies and trash aren't exactly any easier. Although you can grab a biohazard bin from the dispenser, it has a habit of dumping out bloody bits of bodies instead. In any case, carrying that around to pick up small meaty chunks and shell casings is easier than running them one by one to the fireplace. Oh, speaking of the fireplace, that's where you dump all the trash. After a few seconds of sitting in the fire any object will disappear. Of course, the game tells you none of this and hopes you can figure it out on your own.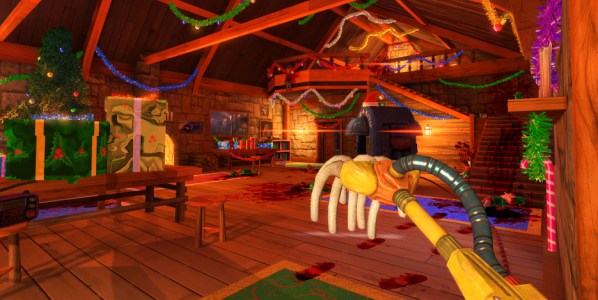 Beyond these mechanics, there's not much to it. There is no goal beyond the one you setup for yourself, which usually is "clean/destroy everything". Unfortunately, there are some glitches right now that make it impossible to finish. For example, TNT explosions can cause objects to be lodged behind walls which means you'll never be able to reach them. This happened in my first complete playthrough and was a bit disheartening!
Viscera Cleanup Detail: Santa's Rampage is under $3 and a ridiculous time-waster so it's hard to bash it too much. I recommend playing with a partner to make the mess more manageable, although you might need to run a program like Hamachi to do it. All in all, it was a weird three hours spent cleaning digital messes and I was glad to have done it. My hope is that RuneStorm's final product, simply titled Viscera Cleanup Detail, will expand on the concepts found in Santa's Rampage.
---

3 out of 5 alpacas
---